Fla. air ambulance crew transports man bitten by shark while fishing
The angler caught a lemon shark and "got too close to its mouth" as he tried to release it, said a Florida Fish and Wildlife Conservation Commission spokesman
---
David Goodhue
Miami Herald
MIAMI — A fisherman was airlifted to a Miami-Dade County hospital Sunday evening after a shark he caught bit him as he tried to remove the hook from its mouth, according to state wildlife police.
But unlike a woman who was seriously wounded by a shark while swimming near the same area on June 29, authorities do not consider this incident an attack, said Officer Jason Rafter, a spokesman for the Florida Fish and Wildlife Conservation Commission.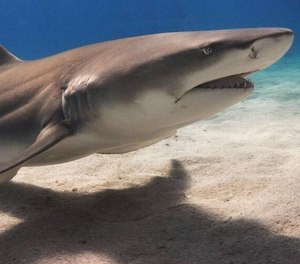 The man, who has not been named, was bitten on the hand by what witnesses describe as a 6-foot-long lemon shark. He caught the shark, reeled it in and "got too close to its mouth" as he tried to remove the hook to release the fish, Rafter said.
Medics flew the man by helicopter ambulance to Jackson South Medical Center. His condition was not immediately known.
The incident happened between 5:30 and 6 p.m. near Content Keys, a group of mangrove-covered islands north of Big Torch Key in the Lower Keys, Rafter said.
In late June, a large shark bit Lindsay Bruns, a 35-year-old mother of two from Texas. The shark attacked Bruns as she and her family were swimming from a pontoon boat near the Tarpon Belly Keys, also in the Lower Keys, located only a few miles from Content Keys.
The bite wound extended from her hip to above her knee. Medics had to give Bruns 11 blood transfusions as they flew her to a Miami-Dade hospital.
Despite her wounds, Bruns was recovering well, her husband said earlier this month.
___
©2022 Miami Herald.
McClatchy-Tribune News Service