Abandoned dog gets second chance as Ga. rescue K9
Once trained, Jasper, a 1-year-old German Sheperd, will be used to search for lost children, Alzheimer's patients, and natural disaster victims
---
By EMS1 Staff
BRYAN COUNTY, Ga. — Officials at Bryan County EMS rescued a dog off Georgia's streets, giving him second chance by adding him to their ranks for live air scent tracking.
According to WTOC, the Bryan County EMS is training Jasper, a 1-year-old German Shepherd, for live air scent tracking and will be working with his handler, Sarah Simon, constantly.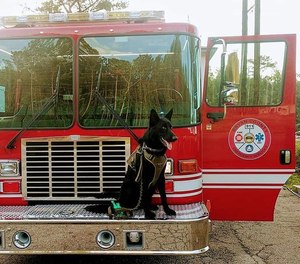 "We're going to be looking for little kids that might have wondered off into the woods, Alzheimer's patients that might have wondered off, and any natural disaster where we are looking to find someone still alive," Simon, a Bryan County firefighter-EMT, said.
Jasper is just in his initial training period and only understands basic commands such as "sit" and "stay." The EMS agency says they will know if the program is successful with Jasper in about 6-12 months.