Police: Man throws himself at car, fights paramedic
According to a criminal complaint filed in Bernalillo County Metropolitan Court, Angelo Ray, 21, is charged with two counts of battery on a healthcare worker
---
By Celia Raney
Albuquerque Journal, N.M.
ALBUQUERQUE, N.M. — A man is behind bars after police say he threw himself in front of a moving vehicle, pretended to have a seizure and then fought a paramedic in the back of an ambulance in west central Albuquerque Monday.
According to a criminal complaint filed in Bernalillo County Metropolitan Court, Angelo Ray, 21, is charged with two counts of battery upon a healthcare worker.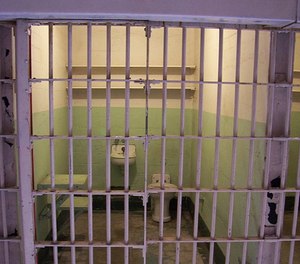 Officers responded to an accident involving a pedestrian around 6 p.m. at the intersection of Menaul and 12th, where they say Ray was found on the ground pretending to have a seizure after throwing himself in front of a moving car.
The driver of the car told police he saw Ray in the middle of the road and slowed down, honking to warn him. Ray turned around and started yelling at the driver, who was trying to pass Ray when he threw himself into the passenger side of the car, according to the complaint.
Paramedics on the scene examined Ray and told officers he was not having a seizure but was very intoxicated. They loaded him into the ambulance and as they were transporting him to a hospital he began to "physically fight" with the female paramedic in the back of the ambulance, detectives wrote.
The driver of the ambulance then pulled over and tried to hold Ray's legs, preventing him from kicking the woman. Police say Ray kicked the driver several times before the paramedics were able to calm him down.
Officers met Ray at the hospital where he was discharged and taken into custody at the Metropolitan Detention Center.
———
©2019 the Albuquerque Journal (Albuquerque, N.M.)
McClatchy-Tribune News Service