Is alarm fatigue causing prehospital patient care errors?
Health care accreditation and safety organizations have cited alarm fatigue as a top patient safety risk
---
Fatigue within EMS is usually described in terms of a provider's ability to get enough sleep. But there are other types of fatigue in health care, the study of which has remained siloed within brick and mortar facilities, resulting in a generic lack of focus from the EMS industry.
These types of fatigue are real, and they have real, sometimes deadly, consequences.
Defined as "sensory overload when clinicians are exposed to an excessive number of alarms," alarm fatigue has become so widely accepted within health care as a patient safety risk that the Joint Commission named it as their 2014 National Patient Safety Goal.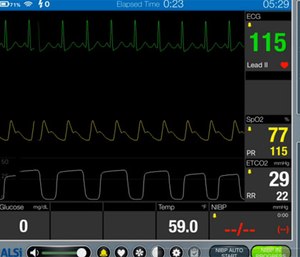 The danger of alarm fatigue comes from desensitization to alarms and an increased likelihood that providers will miss or ignore an alarm, resulting in a negative outcome.
Most estimates categorize at least 85 percent of alarms as false positives. Although not always reported outside of the individual organizations, the Joint Commission's Sentinel Event database included 98 reported events involving alarms over a 3.5 year period, of which over 80 percent resulted in the death of a patient.
A quick literature search of both PubMed and Web of Science on alarm fatigue in the context of EMS and prehospital emergency medicine found no results. Even research within emergency departments on the topic is limited. But just because the research doesn't exist, doesn't mean EMS providers are immune to this patient safety risk.
EMS providers can potentially be exposed to a dozen different sources of an alarm on any given shift which may impact future patient care. A low oxygen saturation alarm or failure to capture a blood pressure might actually be the result of a bumpy road and not a significant change in the patient's clinical condition.
Other commonly cited causes of inappropriate alarms include:
Alarm conditions set too rigorously.
Default settings not adjusted to reflect the patient population.
Cardiac electrodes improperly stored or applied.
Intermittent failure of wiring on the equipment.
Legal liability biasing organizations to allow for false positives.
Alarm sounds that can't convey necessary information to the provider.
While items on this list can apply to the context of prehospital emergency care, the reality is that EMS providers are typically within arm's reach of a patient. Often times, the provider may notice a change in patient status before the technology has an opportunity to catch up. This presents a unique opportunity to both develop alarms that are best suited for the back of an ambulance and for research surrounding alarm fatigue within the context of the prehospital setting.
Subsets of alarm fatigue
With the increase in information technology and the growing success of health information exchanges, the quality of patient level information that EMS providers have access to before and during a call is only going to increase. Alert fatigue is a unique type of alarm fatigue that is a direct consequence of electronic medical records. It occurs when providers become so accustomed to seeing alerts appear within the computer system, they ignore the alerts, assuming that the warnings have no real value.
A second subset of alarm fatigue that is likely very specific to first responders and those within public safety occurs as a result of the delay between when the call is received and the providers arrive on scene. This type of fatigue is due to a constant state of arousal, and has been widely studied from the physiological perspective on acute stressors, but receives little to no attention from the organization perspective. 
Sounding the alarm
Regardless of the type of alarm, providers of all training levels and organizational seniority are at risk of being desensitized. This is no less true in an industry where a significant proportion of providers spend twelve hours — or more — with a radio blasting call information into their ear. 
EMS organizations must recognize that alarm fatigue isn't just an issue for brick and mortar health care facilities. Leaders, researchers and clinicians should consider alarm fatigue as a potential cause in near miss and incident investigations and, if necessary, use the findings to implement process changes, deliver education and notify device manufacturers of the risks associated with alarms. Finally, EMS providers must flip the paradigm that silence is the only true source for a real alarm.