Tempers flare as Ala. ambulance board proposes changes to response time requirements, fines
The Decatur Ambulance Regulatory Board meeting Tuesday included lawsuit threats, complaints and a dispute over a heart monitor battery
---
Bayne Hughes
The Decatur Daily, Ala.
DECATUR, Ala. — Invitations for lawsuits, complaints and anger among the parties involved came out Tuesday even though the Ambulance Regulatory Board voted to recommend reducing fines and adjusting response-time requirements to make it easier on the city's only ambulance service.
The meeting also included a dispute over EMS Coordinator Ashley England's imposition of a $250 fine on First Response Ambulance Service due to a heart monitor battery failing during a call.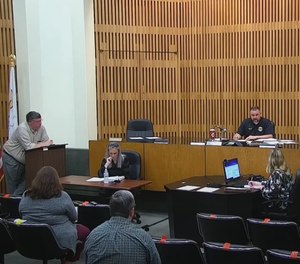 The monthly ARB meetings have often been contentious since the board was formed in 2019, pitting First Response Ambulance Service owner David Childers against Assistant City Attorney Chip Alexander and EMS Coordinator Ashley England.
At one point Tuesday, Alexander said from his seat, "Sue us and find out! You've been threatening to do it for six years. Let's go!"
At another point when Childers complained about Huntsville Hospital transporting non-emergency patients in Decatur, Alexander challenged Childers and his company to leave Decatur.
"We'll find someone else," Alexander said.
The board was discussing amendments to the ambulance ordinance passed in 2019 and Childers was unhappy that the board, on Alexander's advice, wouldn't let him participate in the discussions about most of the proposed changes. However, the board members held little discussion except to ask a few questions prior to the vote.
Afterward, Childers said he was frustrated with Alexander and that the ongoing controversy is impacting his business.
"I've suffered damage. I've been harmed with defamation of character by the (assistant) city attorney," Childers said. "We all need to work together, and we can't work together when one wants to do harm to the other."
Alexander said after the meeting he was frustrated with Childers.
"Of course I don't want them to sue," Alexander said. "But we also can't be held hostage. 'I want to sue you' is a tactic, and sometimes you have to call their bluff. If they think we're wrong, then take us to court."
Fire Chief Tracy Thornton, the ARB chairman, said he was annoyed by the repeated conflicts in the meeting.
"The whole reason we changed the ordinance was to make things better for David (Childers) and any ambulance service that comes into the city," Thornton said. "We want to make the ordinance workable and everything we did made it better and easier, yet he argued and fought all of the way."
Board member Lillie Pike said she thought the proposed changes would improve the ordinance if the City Council accepts them.
"The ordinance is now something I think they can abide by, and all we can do is hold them accountable," Pike said.
Alexander proposed, and the board accepted, the following amendments to the ambulance ordinance:
—Increasing the required time from eight to nine minutes that an ambulance has to reach the scene of an emergency call within the city limits.
—Increasing the required time from 12 to 13 minutes that an ambulance has to reach the scene of an emergency call in the police jurisdiction.
—Ending an ambulance service's ability to seek time exemptions on specific calls.
—Clarifying that a call that's rolled to another ambulance service because the city ambulance service is unable to respond counts as not meeting the required response time.
—Reducing the fines for an ambulance service's failure to meet the response time requirements on 90% of the calls over three months from $10,000 to $5,000, and from $20,000 to $10,000 in a second consecutive quarter.
—Requiring the ambulance service to turn in an audited financial statement.
—Increasing the maximum age of an ambulance from six to seven years.
—Increasing the number of miles an ambulance can have from 200,000 to 250,000.
—Requiring First Response to buy three new ambulances by the end of this fiscal year, three more in 2022 and three in 2023. The vehicles "cannot be old with rebuilt engines," Alexander said.
Thornton allowed Childers to speak on this issue. Childers said his five-year strategic plan for First Response, in which he agreed to buy new ambulances, changed in February when the city allowed Decatur Morgan Hospital, Parkway Medical Center and Decatur General West, all of which are part of the Huntsville Hospital Health System, to begin transporting non-emergency patients.
His company is taking a major financial hit because of this move, Childers said.
—Eliminating the ordinance's requirement that the ambulance service secure a $1 million performance bond. Alexander said the city has not been enforcing the bond requirement because First Response was unable to get one.
—Requiring the ambulance service to appeal any penalty within 14 days or pay the fine to the city clerk.
Alexander also suggested reducing the points for a first violation from 10 to five and from 20 to 10 for a second consecutive violation, but none of the board members would offer a motion and his suggestion failed. Under the ordinance, the ambulance service can lose its certificate to operate in the city if it accumulates 26 points in a fiscal year.
Childers on Tuesday tried to appeal England's $250 penalty, saying there wasn't an ordinance violation, but Thornton informed him that the ordinance allows the EMS director to make decisions on fines less than $1,000.
England said he told Childers he wouldn't have to pay a fine if he bought new heart monitors that could be plugged to an alternate source if their batteries died.
Childers called this "extortion. He was basically telling me, 'Do what I want and spend $100,000.'"
Childers said he is looking into an adapter that would allow the heart monitors he uses to be plugged into his ambulances or another source.
The recommendations will now go to the Decatur City Council for consideration.
___
(c)2021 The Decatur Daily (Decatur, Ala.)
McClatchy-Tribune News Service