Paralyzed mountain biker claims Apple Watch saved his life after crash
When Ryan McConnaughey realized he couldn't move anything below his neck, he activated his watch using voice control to call for help
---
By EMS1 Staff
SPRING VALLEY, Calif. — A man who was paralyzed after a crash while mountain biking credits his Apple Watch with saving his life, 10 News San Diego reported.
In April, Ryan McConnaughey, 23, was on a daily bike ride when he hit a steep section of the trail and crashed.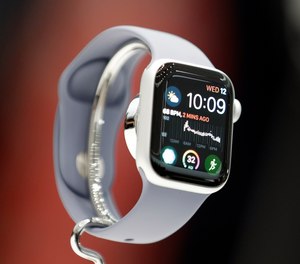 "It was close to sunset time, about 40 minutes into my ride," he said. "My bicycle went forward, and I went over the handlebars, headfirst into the ground."
McConnaughey landed on his back and immediately took an assessment of his injuries.
"I knew what had happened. I didn't have movement from my neck down," he said. "I knew for sure that I needed to get medical attention as quickly as possible. My brain kind of kicked into survival mode."
With his phone in his backpack, McConnaughey had no way of contacting anyone for help, until he remembered he was wearing his Apple Watch.
"I said, 'Hey Siri, call Peter," he recalled, connecting with a friend who knew the trails he rode. Both he and his friend then called 911, and McConnaughey also left a voicemail for his girlfriend, which later went viral on TikTok.
"I'm so sorry, babe. I just love you more than anything," McConnaughey can be heard saying in the voicemail.
Shortly after, first responders were able to locate him and airlift him to a local hospital, where he received several life-saving surgeries to stabilize the vertebrae in his neck and relieve pressure on his spine.
"That watch saved my life," McConnaughey said. "No doubt about it. No way anybody would have found me. I never would have thought I'd be using an Apple Watch to make a life-saving phone call."