Off-duty Wash. FF-paramedic leads challenging backcountry rescue
Walla Walla County Fire District 4 Firefighter-Paramedic Jestin Goodson was hiking with his family when he discovered a woman at the bottom of a ravine
---
Annie Charnley Eveland
Walla Walla Union-Bulletin, Wash.
WALLA WALLA COUNTY, Wash. — An outing in the Eagle Cap Wilderness turned out well for an injured hiker found and aided by Walla Walla County Fire District 4 Firefighter Paramedic Jestin Goodson, among others.
More than a week ago, as Jestin and family members trekked along an overgrown trail about 5 miles from the nearest trailhead, they heard calls for help from a rocky ravine below.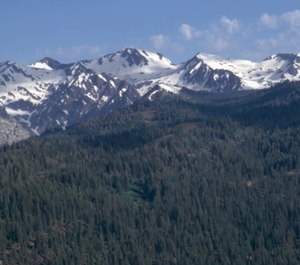 "Thanks to his medical training, support from other hikers, volunteers with Wallowa County Search and Rescue and a nighttime response from Whitefish, Montana-based Two Bear Air, the hiker was safely removed from a rocky cliff by helicopter late at night," said Wildland Firefighter and Public Information Volunteer Alissa Cordner in a release.
"Local firefighters and emergency responders are a valuable resource for our community. Their extensive training, medical skills and ability to stay calm under pressure mean they can respond and help in times of need, even while off duty," she said.
A paramedic of more than 10 years, Jestin led the challenging rescue on Aug. 21. He's always equipped with a first aid kit, and only that morning had added extra rolls of gauze and triangle bandages.
Jestin scrambled down to the injured hiker and her two dogs, introduced himself as a paramedic and said her face revealed a look of "immediate relief."
"Because the hiker had not told anyone where she was going that day, it is unknown how long she would have remained at the bottom of the ravine before others noticed and were able to help," Alissa said.
He tended to her wounds and immobilized her badly broken arm. Then, with family help, Jestin and the hiker climbed hundreds of feet back to the main trail around 6 p.m. They called Wallowa County dispatch and talked to the on-call search and rescue incident commander.
Jestin previously worked for LifeFlight in Pendleton before hiring on full time at District 4 and knew how to assess the need for helicopter rescue. The county organized a hoist rescue from the Montana company. The Goodson family stayed with the injured hiker long after sunset.
Several Wallowa County Search and Rescue volunteers hiked in additional medical supplies, allowing Jestin to more thoroughly splint the broken bone. The helicopter arrived to lift the hiker off the side of the mountain at around 11 p.m.
Guided by headlamp, Jestin and family members then continued their backpacking trip.
"This was the first time Goodson had participated in a backcountry medical response, and he credits his high-level emergency medical training and years of experience for his ability to stay focused and provide high-level care," Alissa said.
"It's my moral responsibility, that even when I'm off duty, I'm always ready to provide care and comfort," Jestin said.
First responders can attend to all types of emergencies and accidents because of extensive coursework required of EMTs and paramedics, combined with dozens of hours of required annual training for recertification, Alissa said.
Alissa said Jestin is one of eight paramedics and nearly 50 with EMT-level training at Walla Walla County Fire District 4. Approximately 65-70% of the calls that District 4 responds to are medical calls, according to Chief Rocky Eastman.
While he is most familiar with the ways that District 4 members respond to incidents in Walla Walla County, Rocky said Jestin's actions exemplify those of the fire service.
"That shows the compassion and dedication that our members have to serve, no matter where they're at."
———
©2020 Walla Walla Union-Bulletin (Walla Walla, Wash.)
McClatchy-Tribune News Service