S.C. EMS director hails 'huge turnaround' after hiring, retention struggle
A newly released report shows only three vacancies at the department, down from a high of 21 in 2020
---
Dede Biles
Aiken Standard, S.C.
AIKEN COUNTY, S.C. — Aiken County's Emergency Medical Services Department has experienced what its director, Chris DeLoach, described Tuesday as "a huge turnaround" after struggling to hire and retain qualified employees.
Supporting that assessment was a report that County Administrator Clay Killian gave during a meeting of County Council's Judicial and Public Safety Committee at the Aiken County Government Center.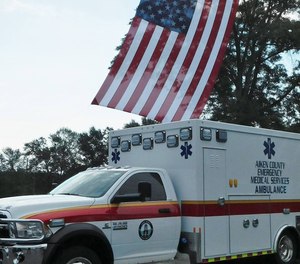 Killian said there were only three vacancies currently on the EMS Department's staff.
He also said there were no Status Zero situations in the county in April, which meant ambulances always were available to respond to calls for assistance.
In 2020, the number of vacancies climbed to as high as 21 and Status Zero was "a regular occurrence," DeLoach told the Aiken Standard after Killian spoke.
There are 77 positions in the EMS Department's budget.
DeLoach believes the series of salary increases approved by County Council made the biggest difference.
At one point, when those raises didn't seem to be working as well as hoped, the panel authorized Killian and his staff to pay what the market was demanding.
"That brought us up to a level where people want to come work for us," DeLoach said. "I think the surrounding areas are fighting the same battle now that we did. They're starting to go through what we did last year."
County Council also was supportive of an initiative for the county to team up with the South Carolina Fire Academy to conduct a basic emergency medical technician class.
It had 16 students, and 15 completed the course recently and passed the required exam.
"That cleared them to take their National Registry (of Emergency Medical Technicians) test, which gets them certified," DeLoach said. "Some of them have (taken the test) and some of them have their tests scheduled. I believe there may be one or two that will have to get retested. Four of them have brought back their certifications and we have hired them."
Only one in the group isn't interested in working for Aiken County EMS and that is "because of a family situation," DeLoach said.
In a resolution passed last August, other strategies approved by County Council to deal the EMS Department's crisis included an increase in advertising and outreach to attract new personnel.
___
(c)2021 the Aiken Standard (Aiken, S.C.)
McClatchy-Tribune News Service