Mont. city to hire 5 EMTs after EMS director resigns
The city's EMS director resigned after the mayor halted the hiring process, which officials say will now move ahead
---
Juliana Sukut
Billings Gazette, Mont.
The city of Laurel is moving ahead with hiring five full-time emergency medical technicians. The decision comes a day after the mayor halted the hiring process, prompting the resignation of the city's EMS director.
On Nov. 13, Laurel's EMS department announced the city was preparing to hire five EMTs by the beginning of the new year to supplement the volunteer department, a move approved by Mayor Tom Nelson.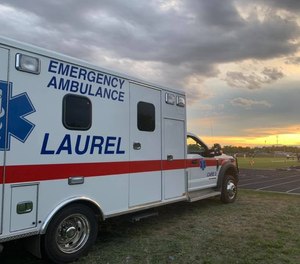 On Tuesday, EMS director Riley Hutchens announced on Facebook that he was resigning after Nelson had apparently reversed the decision to hire the new EMTs.
"This decision threatens the health and safety of all citizens, but particularly the elderly, children, and the special needs who depend on our services so much," Hutchens wrote in the statement.
The decision to halt the hiring seemed sudden, but just as quickly Hutchens announced Wednesday that Nelson had again agreed to hire the EMTs.
Reached by phone on Wednesday, Nelson said the reversal came after "a really good conversation" with Hutchens.
"I shut down that process of hiring EMTs yesterday because I had not received any information that I wanted … on our plan and what we're doing," Nelson said.
Nelson said he had received no official word of resignation from Hutchens.
"That Facebook page isn't exactly the word of the city," he said.
When asked to specify what information was missing and what had changed his mind on Wednesday, Nelson hung up the phone. He did not return another call.
The five EMTs would start by the beginning of 2020, Nelson said. Volunteers would supplement the EMTs' coverage area with Hutchens continuing to serve as a part-time volunteer director.
But the new EMTs are only a "start" to covering Laurel's shortage of emergency responders, Hutchens said on Facebook. The new EMTs would "guarantee at least 75% full coverage to the city."
"We are far from being 'fixed.' We have a long way to go to get to a 98-100% response rate. Our service is still needing at least one additional full-time employee, a full-time director, and at least three part-time employees to become a 24/7 service," Hutchens said.
Nelson was not able to provide the number of volunteers serving the EMS. Hutchens did not return multiple phone calls or an email seeking comment on his employment status and specifics on the current EMS department.
Future plans to increase Laurel's EMS and fire services are tentative, but include hiring a full-time director for the Laurel EMS and a full-time fire chief for the Laurel Volunteer Fire Department, Nelson said.
Some of those plans were to be discussed during a city council meeting last week, but Nelson failed to show up and took the discussion off the agenda, the Laurel Outlook reported.
In an updated Facebook post, Hutchens thanked "all citizens from Laurel and across the nation for your support."
———
©2019 the Billings Gazette (Billings, Mont.)
McClatchy-Tribune News Service