When PTSD comes knocking
A first responder reflects after being involved in a fatal shooting
---
This story is reprinted with permission from The Code Green Campaign. Code Green accepts stories from EMS providers, firefighters, dispatch personnel and law enforcement officers who have experienced stress, trauma or mental health issues.
We share these stories so that other first responders who are struggling can see they are not alone and that there is hope, and help, available. Submit your own story to The Code Green Campaign today.
I didn't ask for PTSD ... it asked for me on that calm fall night. He didn't knock on my front door nor did he announce he was coming. Like the coward in the woods, he laid low until the perfect time where he took his shot and took over.
Sept 12, 2014. I was the first lieutenant of my fire dept. at 22. I was on top of my game young, passionate and confident. Did I know it all? Hell no, but just like everyone else, I had my fair share of disturbing calls. But nothing compared to the sound of police shooting frantically into the woods of the unknown.
One officer was critically injured another dead. The people I'm supposed to call when shit hits the fan are now calling upon me and my crew along with other brothers and sisters to save them … we hear about shootings almost every day across the United States whether they are civilians or police. We hear about the victims and their loved ones. But you never hear about the ones who rush to that tragic scene.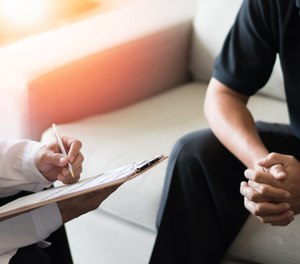 Wanna know the reason why? It's because we're too scared to talk. We're scared to come forth and tell our stories. We're scared that if we show weakness we will no longer be able to do what we once loved so much. We train countless hours, we lose hours of sleep and family moments we will never get back.
We are losing the bigger picture. The bigger picture we call life. When tones drop, we rush to help others continue on with their life. But what about ours? Let's start a movement. A movement where we not only see the bigger picture but we live in the bigger picture.
Reach out and talk to someone. Tell your story because you are the author of your own book. By doing so you can change a horror story into fairy tale. There is help. There is hope. You just have to be stronger than dark so you can shed light upon the day.
Sincerely,
The voice of the voiceless
– Story written by an anonymous first responder