Mass. first responder crisis intervention bill signed into law
The new law requires mental health services to be available for all first responders to help them cope with psychological trauma
---
By News Staff
BOSTON — A bill that ensures first responders' access to mental health services after a traumatic event was signed into law.
WWLP reported that Gov. Charlie Baker signed Senate Bill 2633, which requires departments to have crisis intervention services to prevent PTSD in first responders who are dealing with psychological trauma.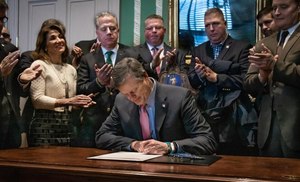 "In our agency, we have a peer support group consisting of three officers who keep things confidential," Amherst Police Chief Scott Livingstone said. "That would be where they would start within our agency. So we have the protocols in place that would help those officers get the ball rolling and get the assistance they need."
The bill will ensure that first responders will not be penalized for confiding in their peers about their experiences.
"Providing law enforcement officers with the ability to confidentially seek guidance from their peers will help them cope with the events they experience in the line of duty," Baker said, according to the Millbury-Sutton Chronicle. "We are thankful for the Legislature and law enforcement for their advocacy on this bill to increase support for services and reduce stigma around mental health issues."
Senator Michael Moore said he hopes the bill will "encourage greater participation."
"Police officers, firefighters, and paramedics work every day under demanding circumstances, and responding to critical incidents can have a direct, negative impact on the mental health of first responders," he said.  "Confidentiality is an essential piece of comprehensive mental health services, and this bill will encourage greater participation and improved mental health for these brave men and women."