Man who crashed into ambulance, hurt 2 EMTs gets prison time
Lawrence Vanburen-Morgan will be spending between three days and six months in prison after crashing into an ambulance and injuring two EMTs and a patient
---
By Patrick Kernan
The Times-Leader
WILKES-BARRE, Pa. — A Nanticoke man who pleaded guilty to crashing into an ambulance and injuring two EMTs and a patient will be spending between three days and six months in prison.
Lawrence Vanburen-Morgan, 30, entered the guilty plea in November, and appeared in court on Thursday to be sentenced by Luzerne County Judge Joseph F. Sklarosky Jr.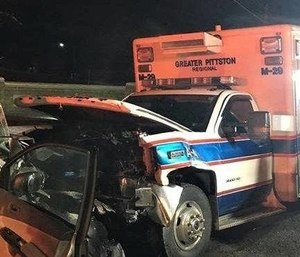 Vanburen-Morgan admitted he was high on marijuana at the time of the accident which occurred on Route 315 on Jan. 18.
Prosecutors said Vanburen-Morgan plowed his 2007 Toyota Sienna into a Greater Pittston Regional ambulance, causing injuries to EMTs Emmett Thomas and Michael Ankenbrand, along with patient Margaret Milewski, 87. Milewski died a few days afterward, but a coroner determined her death could not be linked to the accident.
Vanburen-Morgan entered guilty pleas on four total counts — a misdemeanor count of driving under the influence of a controlled substance and two misdemeanor counts of accidents involving death or personal injury, along with a summary count of driving while privileges are suspended or revoked.
In court on Thursday, Vanburen-Morgan said the accident was a grievous mistake.
"It was 100 percent not in my character," he said.
He also claimed to have very little memory of what happened on that day.
"I wish I could remember more about that day, but I don't," he said.
Ankenbrand remembers it, though.
"Some people might not remember it, but it's a day I'll never forget," he said in court.
According to Ankenbrand, who was driving the ambulance that night, the accident was a horrific one.
"During that incident, so many things happened," he said. "It was violent. That's one word to describe it: violence."
Ankenbrand told the judge the ambulance was nearly torn in half by the impact.
The courtroom was filled with other members of the Greater Pittston Regional ambulance company. Before giving the sentence, Sklarosky took a moment to thank Thomas and Ankenbrand and, by extension, the other EMTs there.
"Both of you gentlemen illustrate what's so special about first responders," he said. "Oftentimes your work goes under appreciated."
Sklarosky said he thinks Vanburen-Morgan was sincere in his apologies, but also thinks prosecutors were lenient when charging him.
"It almost seems to this court there should be more serious charges, but they are what they are," he said.
Vanburen-Morgan was sentenced to spend between 72 hours and six months in prison. After the prison sentence, he will spend a total of four years on probation. His license was suspended, and he was ordered to pay over $180,000 in restitution to the ambulance company to help cover the costs of an ambulance.
State police said Vanburen-Morgan's car struck the ambulance head on, crossing into the southbound lane while traveling north that evening.
Vanburen-Morgan told investigators at the time that he wasn't smoking marijuana in the car, despite troopers detecting the smell of pot coming from the car.
A state police search warrant allowed investigators to see Vanburen-Morgan's medical records after the accident, which allegedly showed marijuana in his bloodstream.
Vanburen-Morgan was ordered to report to the Luzerne County Correctional Facility Friday morning to begin his sentence.
Copyright 2018 The Times-Leader
McClatchy-Tribune News Service