Police: Medical kit stolen during stabbing call recovered
A security photo was released on Facebook of the suspected medical kit thief, carrying the blue and black duffel bag full of medical gear
---
By Caleb Hutton
The Bellingham Herald
BELLINGHAM, Wash. — In the chaos of a stabbing that led to an officer-involved shooting in downtown Bellingham, a woman stole a large basic life-support kit from firefighters Sunday afternoon.
Bellingham paramedics were treating a man for a stab wound to the neck around 4:20 p.m., when the bag went missing. A Bellingham police officer later shot the suspected stabber. The bag — full of bandages, oxygen, blood pressure cuffs, and other medical gear — was left behind for a moment while firefighters raced to the scene, said Bellingham Fire Assistant Chief Rob Kintzele.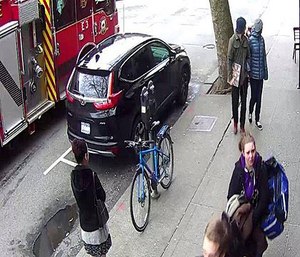 On Monday morning police released a security photo on Facebook of the suspected medical kit thief, carrying the blue-and-black duffel bag full of medical gear in front of the Horseshoe Café, 113 E. Holly St.
The post was shared over 2,300 times on Facebook within a few hours. By the late afternoon, police said the woman had been identified and the bag has been returned. Her name was not released Monday. So far she hasn't been arrested or charged with a crime, said Lt. Danette Beckley.
Copyright 2017 The Bellingham Herald