Gang threatens to kill Jersey City police, EMTs
A leaked internal memo warns gang members plan to target EMTs to draw police as backup
---
JERSEY CITY — First responders throughout New Jersey are on high alert after a gang threated to shoot more police and EMTs to avenge a Bloods member who was shot dead after he killed a rookie officer.
An internal New Jersey State Police advisory warns that members of the gang may target EMTs in an effort to draw a response from officers.  The Bloods threated to "kill a Jersey City cop and not stop until the National Guard is called in," the New York Post reports. 
"In addition to shooting a police officer, members of the BLOODS will attack and shoot Jersey City EMTs, because they know the police officers will respond immediately to their backup," the advisory says.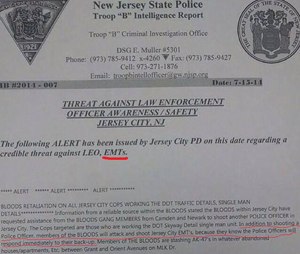 The threat was made in response to the shooting of Lawrence Campbell, who shot and killed Jersey City police officer Melvin Santiago in a drugstore parking lot around 4 a.m. Sunday.
Police were warned that gang members may be traveling from other states to New Jersey to carry out the threat.
The advisory was leaked when a police officer posted the alert on a Facebook page, nj.com reports. Mayor Steve Fulop said on a Geraldo Rivera's WABC radio show that he will face disciplinary action.
"The police department gets tons of threats and 99.9 percent are not substantiated and not credible. However, we take it seriously," Fulop said.
However, Jersey City Public Safety Director Jim Shea said he believes the threat was taken out of context.
"What happened here is one member of our force put the threat out on social media," he said, "where it was viewed by people who do not have the context to view it and judge it for what it is and they took it at face value."
Bloods gunman Campbell killed rookie officer Santiago as he was responding to a report of an armed robbery at Walgreens. Instead of robbing the store, he lay in wait for police, telling a witness to watch the news because he was "going to be famous" the Associated Press reports.
Campbell, 27, shot Santiago in the head shortly after he and his partner arrived. Other officers returned fire at Campbell, killing him.