NTSB: Pilot error is probable cause of fatal 2018 ND air ambulance crash
The NTSB's report on the Bismarck Air Medical crash that killed the pilot, a paramedic and a nurse states the plane broke up in flight after the pilot failed to maintain control in dark night conditions
---
Jack Dura
The Bismarck Tribune, N.D.
MORTON COUNTY, N.D. — Pilot error is the probable cause of a 2018 Bismarck air ambulance crash in Morton County that killed all three people aboard, federal investigators say.
The National Transportation Safety Board's final report attributes the Bismarck Air Medical crash to "The pilot's failure to maintain control of the airplane in dark night conditions that resulted in an in-flight positive overload failure of the wings and the subsequent in-flight breakup of the airplane."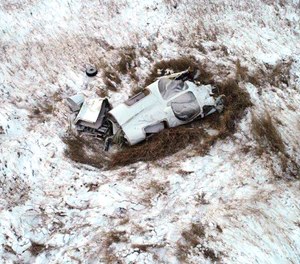 The NTSB lists "aircraft structural failure" as the "defining event" in the report published Thursday.
The plane had climbed to 14,000 feet before it entered a right descending turn and fell 7,800 feet in about 40 seconds the night of Nov. 18, 2018, with debris landing in a snow-covered field northwest of Harmon Lake.
Bismarck Air Medical pilot Todd Lasky, Metro Area Ambulance paramedic Chris Iverson and CHI St. Alexius Health nurse Bonnie Cook died in the crash. They were headed from Bismarck to Williston to pick up a neonatal patient when the Bismarck Air Medical Cessna 441 "broke up in-flight," according to a preliminary NTSB report. The plane was destroyed.
Bismarck Air Medical Director of Operations Jonathan Ternes, who participated in the investigation, declined to comment on the final report "out of respect" for the pilot's family.
Lasky worked for Bismarck Air Medical on two occasions totaling three years, according to Ternes. Lasky had no past accidents, violations or reprimands on his record, Ternes said.
The Tribune on Tuesday submitted a records request to the Federal Aviation Administration regarding Lasky's pilot history.
A 2018 NTSB report indicates Lasky had 4,685 hours of total flight time, including 70 hours in the Cessna and 590 hours at night. He held flight instructor, commercial and airline transport pilot certificates.
His fiancee, Bonny Senger, said Lasky was a skilled pilot and she doesn't believe the NTSB's final crash report, saying "something happened, and Todd couldn't do anything."
Family of Cook and Iverson did not immediately return messages seeking comment.
Bismarck Air Medical and Metro Area Ambulance Operations Chief Dan Schaefer declined to comment on the final report. CHI St. Alexius Health also declined to comment.
"We are still mourning the loss of our dear friends that were involved," Marketing Coordinator Chelsey Kralicek said.
Memorials were unveiled in 2019 outside of CHI St. Alexius Health and Metro Area Ambulance in Bismarck in honor of Lasky, Iverson and Cook.
___
(c)2020 The Bismarck Tribune (Bismarck, N.D.)
McClatchy-Tribune News Service