To err is human, but hiding a prehospital patient care error is wrong
EMS providers need to admit that prehospital patient care errors can and do happen to begin addressing this serious cause of patient injury and death
---
It's been an open secret for some time that medical errors happen more often than is reported. In 1999, the Institutes of Medicine released the seminal document "To Err is Human," a first of its kind report that detailed the suspected level of errors that occurred throughout medicine.
Moreover, the report indicated that upwards of 98,000 patients die each year in the United States as a result of a medical error. Seventeen years later, a study conducted by the Centers for Disease Control and Prevention is showing that the issues are even more concerning — medical errors may be the third leading cause of death in the United States.
Get beyond the shock factor and consider the factors involved.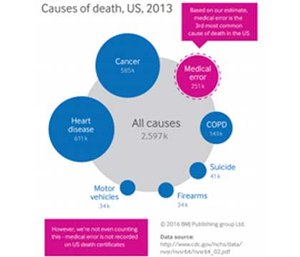 Both reports cite a culture of secrecy surrounding health care that allows errors to occur repeatedly.
Punitive, lawsuit-happy environments prevent providers from freely reporting mistakes.
The inability to accurately report causes of death prevents researchers from quantifying the problem.
Highly complex technical medical equipment is difficult to understand and operate.
Perhaps most ominously is the vast number of health care providers involved in the care of a single patient. Together they form a paper daisy chain of decisions and actions that at any point can fail dramatically and sometimes fatally.
It's time for a sea change in health care practice, including prehospital care. For some time now, concepts like just culture and punitive-free reporting have been circulating in hospital-based care systems. Efforts to improve the reliability of humans and systems have been significant and need to be embraced from the CEO to the line staff in order to find and correct medical errors both big and small.
By the way, EMS is not immune. While no study has been formally done to assess the level of error in field care, there is clearly the opportunity for errors to happen. Ever changing scene conditions, hastily assembled teams, and a general attitude of just "getting the job done" quickly promotes a controlled chaos where mistakes in patient care an easily occur.
The National EMS Culture of Safety Initiative has illuminated these concerns in its strategy document. It's abundantly clear that field care providers have to first accept that errors do and will occur. Second EMS personnel need to realize changes can be made to reduce the level and severity of mistakes.
A major paradigm change is in the concept and implementation of crew resource management. CRM focuses on interpersonal communication, leadership and decision-making process in an environment that promotes safety above all else. First developed for the airline industry, more and more highly technical professions are implementing CRM to improve their outcomes while reducing unnecessary risk and harm.
The idea of a team-based approach to scene care is foreign to most EMS providers. Many training programs require, as a final test, the ability of the new EMS provider to make all of the calls as if they were working alone. During a scenario, no one other than the team leader can indicate what to do with the patient; team members blindly follow the team leader's directions.
This type of training and skill evaluation can breed an environment where help is not expected and shifts all of the responsibility to one person on the scene of a trauma or medical emergency. In reality, many of us in the work environment try to cross-check questionable orders with another crew member or partner. We want someone to speak up if we are about to make a mistake. This is what needs to be taught, practiced and encouraged.
It's critical that the profession begin a deep conversation about improving safety. It's critical to our patients.
I want to hear from you. Share your experiences with CRM, patient safety initiatives and just culture in the comments.