Fundraiser held for amputee medic who was hit getting out of rig
Lexington Paramedic Heather Haynes was getting out of an ambulance in a parking lot when a driver hit the rig, pinning her between the two vehicles
---
By EMS1 Staff
LEXINGTON, N.C. — Dozens of people showed up at a fundraiser to support a paramedic who lost part of her leg after being hit getting out of an ambulance.
FOX 8 reported that Paramedic Heather Haynes was hit by a black Ford Mustang in August 2019 as she was exiting the back of a rig, pinning her between the two vehicles.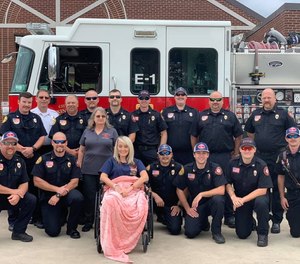 Since the incident, Haynes has undergone six surgeries and had part of her leg removed. She hopes to return to work by February.
"I want to keep going, because, first of all, I didn't go to paramedic school for nothing, and because I have four kids looking at me," Haynes said. "If I give up, then it's going to teach them that you just give up no matter what. So, I'm just going to keep going, and, as soon as I can, I'm going to be back to work."
The driver, Nathan Fowler, 36, was arrested and charged with careless and reckless driving, driving while impaired, felony hit and run and two counts of assault with a deadly weapon on emergency personnel.