Forty years in, Jay Fitch reflects on leadership in EMS
A veteran EMS leader shares some of the most valuable leadership lessons he has learned in more than four decades of serving patients, communities and the profession
---
By Jay Fitch, PhD
It's hard to imagine where the time has gone. Being asked to write this article gave me pause and required a bit of reflection on the elapsed time between being a fresh face volunteer firefighter-EMT and being a retired medic, no longer serving as a primary caregiver but still aspiring to influence the thinking of those who are.
Reflecting on those four decades has provided the following insights that I hope a new generation of leaders can learn something from.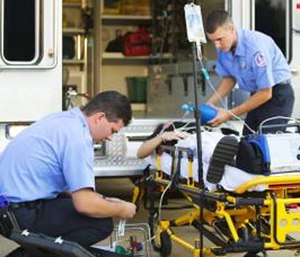 1. Mentoring is important
At every phase of my career, I've benefited from great mentors. As a teenager at Dunn Loring Volunteer Fire Department, in northern Virginia, I learned valuable lessons from Lieutenant Glenn Gaines, who used a mix of humor and peer pressure to gently coax me up a 100-foot aerial ladder and down the steps of my first basement fire.
More important though, he stayed up late one night to share my anguish when I returned to the station after unsuccessfully trying save a child abuse victim – my first call of this nature. A natural leader, Glenn went on to become chief of the Fairfax County Fire and Rescue Department and ended his career as deputy U.S. fire administrator.
Other significant mentors in my career included Jim Page, legendary Los Angeles County battalion chief and founding publisher of JEMS. Jim encouraged me to complete my education and write my first book: "Beyond the Street."
Florence Hill, deputy hospital commissioner in St. Louis and Ken Cole, Missouri's state EMS director, passed along invaluable tips for political survival and principles of humble leadership.
Jack Stout, consultant to Kansas City's Metropolitan Ambulance Service Trust, imparted the importance of innovation, high performance and high value EMS.
I am also grateful to scores of clients who shared valuable insights as we worked together on clinical, operational and financial enhancement opportunities.
When you have the opportunity to positively mentor co-workers, embrace it. You always reap more than you sow – if you plant a seed, you can reap a bushel.
Your efforts will pay dividends for the next generation of EMS leaders and the patients they will serve.
2. Courage to follow your dreams is an essential ingredient of success
Each major career move I made required a major change – from moving halfway across the country, to facing a challenge I'd never taken on before. Leaving the familiar behind to take advantage of a new opportunity requires courage. Not all changes are pleasant and most require sacrifice.
I was comfortable in my role as president of a large private ambulance service. After realizing my values were very different from the owner's, we painfully parted and I started Fitch & Associates. The home mortgage was large; the bank account was small; and with a six-week-old baby, it took courage to follow my dream.
Remember, comfort and courage will never be friends. If you are comfortable, chances are you aren't learning, growing or forging a new path. If you are comfortable, you probably are not really leading. Say yes to something that makes you uncomfortable every single day.
3. Collaboration is more fun than working alone
Playing nice with others was important in kindergarten and remains so today. I've been blessed with family members, business partners, coworkers and clients who understood that sharing ideas and pooling resources to achieve the best outcome is better than pursuing a singular, ego-centric approach.
We learned early on that when you don't collaborate, your ideas are limited to your own abilities. People often ask why we've been successful when other consultants failed. The answer is teamwork: we found interesting colleagues and clients (or they found us), and we help them succeed through collaboration.
4. Doing the right thing is more important than doing things right
I first heard this during paramedic training when the medical director said, "Do the right thing for your patient and we'll work through the rest of the details if things go sideways."
That admonition has served well throughout my time on the street and in leadership. Creatively working through a disciplinary action with a subordinate to salvage a career, making ethical decisions while leading a beleaguered service in a racially divided city, or promoting the best qualified rather than the most popular candidate, all serve as examples of doing the right thing.
When you focus on the right thing, those around you will forgive you if you don't do things exactly right or don't have an ideal outcome.
5. Facts and emotion are required to tell the EMS story
Early in my career, emotion carried the day at budget hearings and other meetings with elected officials. Today, they want data, irrefutable evidence and demonstrated results.
That said, storytelling to support the facts is still effective. Having the cardiac arrest victim or family of a trauma patient describe their experience sets the stage for an easier approval when you present your budget.
Likewise, being able to present a relevant personal story helps people understand an issue when working with colleagues. It's often said that left-brained people are more logical, analytical and objective, while right-brained people are more creative, emotional and intuitive. An EMS story with emotion and intellect will appeal to both hemispheres.
6. Politics are everywhere
The degree of politics an EMS leader encounters varies, but all organizations have some sort of political struggle that consumes energy. Dealing with this struggle takes a keen awareness of the landscape, players and rules in which the political game is played.
Don't delude yourself into thinking that your organization has no politics. There may be times when you realize you are in the middle of a zero-sum game where there will be winners and losers. We always want to be on the winning side of an issue – but when we're not, remember it isn't about you. Get over it and remember not to take it personally; survive to play again another day. If all else fails, refer back to No. 4 above.
7. The more things change, the more they need to change
I hesitate to think of all the patients I "killed" years ago with sodium bicarb and poor CPR. We used the best evidence we had at the time, but as new evidence became available, some systems rapidly evolved, while others resisted and languished.
This occurs on clinical as well as human levels within public safety organizations. We've come a long way, and we have a long way to go.
For example, when the first female medic was hired in Charleston, S.C., we subjected her to vulgarity, verbal teasing and flirtatious hazing that bordered on harassment. She acted with integrity, even if we didn't. In reflection, her quiet perseverance was, in reality, leadership that helped shift the culture and create a more inclusive workplace.
Today, we are again observing major cultural shifts in EMS – about sexual harassment, hazing and bullying in the workplace – as well as dealing with major attitudinal shifts regarding clinical complacency and the importance of outcome over process measures. The ground beneath you and culture around you are shifting. We've come a long way, but we have a longer way to go.
8. Leaving a legacy
Leaving a legacy is important to those of us approaching the ends of our careers. Most aspire to leave our organizations (and the world around us) better than when we arrived.
While that is a great goal, thinking about your legacy at the tail-end of your career is too late – it's defined by the moments shared, decisions made and actions taken every day. My father used to say, "Focus on creating memories each day rather than what will be carved on your headstone. Heartfelt memories loom large. The space on a headstone is small."
Leadership done right is a constant legacy reinvention process – a continuous discovery that builds new skillsets and informs your mindset. At each stage of your career, you learn how to keep creating sustainable impact and influence. With each step you take, you can identify new ways of mastering the fundamentals, which in turn provide you with greater clarity and depth of thought to further improve your leadership.
Don't worry about leaving your leadership legacy. Just live it!
About the author
Jay Fitch is a founding partner at Fitch & Associates, which has provided leadership development and consulting for emergency services for more than three decades. This year marks 40 years since, at the age of 24, Jay became EMS director for the City of St. Louis after serving as a volunteer firefighter and EMT in high school and then as one of the first paramedics in South Carolina.