Mass. EMS providers take precautions against carfentanil exposure
The tranquilizer can be absorbed through the skin or inhaled and just a small amount can be lethal
---
By Peter Francis
The Eagle-Tribune
HAVERHILL, Mass. — A day after New Hampshire officials announced the deaths of three men from overdoses of a synthetic opioid tranquilizer, first responders and police are taking extra measures to protect themselves from accidental exposure to the drug.
The tranquilizer, carfentanil, has been used since the 1970s to sedate large animals such as elephants and rhinoceroses, and is reportedly 100 times more powerful than fentanyl, the opioid painkiller that is growing more common than heroin around the region.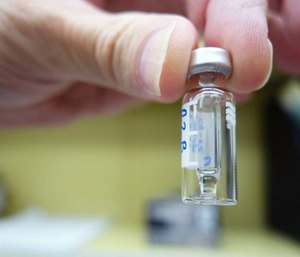 New Hampshire health officials made public Tuesday the March deaths of two men from Manchester, New Hampshire, and one from Meredith, New Hampshire, and gave a heads up to area law enforcement and first responders. The tranquilizer can be absorbed through the skin or inhaled and just a small amount can be lethal.
Police aware of drug
Haverhill Police Detective Lt. Robert Pistone said Thursday that the department has been on the lookout for carfentanil for a year or two, but added that Haverhill officers have not come across any confirmed cases of anyone overdosing from carfentanil in the city.
Pistone said the procedure for handling a carfentanil overdose would be no different from handling one caused by fentanyl.
"Fentanyl is an extremely dangerous drug that can also be absorbed through the skin," Pistone said. "When personnel report to an overdose, they wear gloves ... and they have access to different levels of masks."
He added that officers are trained never to open any package of fentanyl they may find at the scene of an overdose, so as not to allow the drug to go airborne and possibly be inhaled or absorbed.
In the past, officers would take packets of heroin they might find at the scene of an overdose and run tests on the drug. Now, Pistone said any packages of drugs found at a scene are sent straight to a lab so as not to expose officers unnecessarily.
Like fentanyl, Pistone said carfentanil is also being manufactured synthetically manufactured in labs overseas, mostly in China.
EMTs prepared
The company that provides Haverhill with its ambulance services, Trinity Ambulance of Lowell, is also ramping up its precautions to protect its first responders from exposure to carfentanil.
Jon Kelley, Trinity's director of communication, said the company will double its supplies of the drug Narcan, a nasal spray used to reverse an opioid overdose, when a carfentanil overdose is reported within a 20-mile radius of one of the communities served by Trinity.
In addition, the company will also double its supplies of bag valve masks and nasal airway kits, which are used to keep a person's nose open as a dose of Narcan is being prepared.
Rick Barry, Trinity's director of operations, said Thursday the company has become aware of the drug's presence in the region within the last year or two.
In addition to Haverhill and Lowell, Trinity serves the communities of Chelmsford and Dracut, as well as the New Hampshire towns of Atkinson and Hampstead.
Barry said Trinity is continuing to educate its EMTs on handling carfentanil overdoses.
"We take universal precaution. Our EMTs always wear gloves, and have N95 surgical masks," he said.
The company is also in near-constant contact with the state's Department of Public Health, as well as local police departments, who Trinity notifies whenever it goes into what it refers to as "surge protocol."
"If we receive an uptick in overdoses, we proactively notify law enforcement," Barry said. "We leave it up to their discretion whether to set up a social media campaign to notify people of a potentially fatal batch (of drugs)."
Overdoses stable
Despite carfentanil's arrival in New Hampshire, Kelley said there has been "no real spike" in overdoses in Haverhill in the first quarter of 2017 compared to the first quarter of 2016.
Kelley added there has been no increase in the number of Haverhill overdoses that required multiple doses of Narcan.
Of the 74 overdoses Trinity ambulances have responded to in Haverhill this year, 51 have been "critical" overdoses, meaning the victim was three to four minutes away from death.
Among the 23 overdoses that occurred in the city in March, 11 were men and 12 were women. The average age of the male overdose victims was 32, while the average age of female overdoses was 39.
In March 2016, the city saw 26 overdoses, 20 of which were critical overdoses, according to Trinity's March 2017 report.
Kelley said 11 of the March 2017 overdoses required more than one dose of Narcan to revive the victim, which is indicative of a fentanyl overdose.
"There are two types of Narcan atomizers, one with three pieces and another that comes in one piece," Kelley said. "The three-piece atomizer contains a two milligram dose of Narcan, while the one piece atomizer contains four milligrams."
According to a report generated by Trinity, first responders have given seven two milligram doses, five four milligram doses, and six six milligram doses.
Of those Narcan doses, eight were administered by Haverhill police, seven by Trinity, and six by Haverhill firefighters.
Copyright 2017 The Eagle-Tribune
All Rights Reserved