'Outstanding response': EMS praised for quick treatment of downed Buffalo Bills player
EMS1 readers expressed their support for the on-field medical team, speculated on a possible diagnosis and wished safety Damar Hamlin a full recovery
---
Following the collapse of Buffalo Bills safety Damar Hamlin after a tackle against the Cincinnati Bengals on Monday Night Football, fans and players alike watched in horror as medical staff from both benches rushed to treat the 24-year-old.
Emergency personnel administered oxygen and CPR for nearly 10 minutes and utilized an AED to restart Hamlin's heart on the field before he was loaded into an ambulance and transported to the University of Cincinnati Medical Center.
After Hamlin was removed from the field, EMS professionals took to social media to speculate on the possible cause for his collapse, and to offer their appreciation and support for the quick-thinking medical personnel on staff Monday night.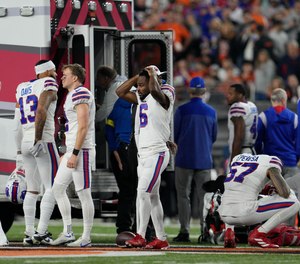 Check out what EMS1 readers had to say in the aftermath of the incident and leave your comments below.
EMS1 reader reactions
"Outstanding response from training staff, team doctors, and EMS." — Trent Welborn
"It helped that there is always an ambulance on scene with EMT-P'S on board, and no doubt a Dr. on the NFL payroll. No waiting for help to arrive, already there, fully equipped. This is EMS doing their job." — Monica Minch
"Horrific event that these EMTs/Medics deal with everyday, only to make less money than you would working at Walmart. They don't want to do this, they NEED to do this, because this is their calling. Hopefully Hamlin recovers, and hopefully this tragic event gives people outside of the EMS loop some real perspective." — Parker Kitching
---

Read more:
Rapid Response: Paramedics get ROSC as world watches NFL player's on-field treatment
When Buffalo Bills player Damar Hamlin collapsed on the field in cardiac arrest, he received out-of-hospital BLS and ALS care from team personnel and EMS before transport to the hospital
---
"People across the world labeled this as a 'horrific scene' all while first responders labeled it as amazing response. They witnessed what we do in the daily. I pray for this player to make a full recovery." — Jaime Bartell
"The world is horrified. Meanwhile, we EMS Providers would handle this call and then just go onto to the next 15 during our shift. Strong work by those on scene. Great job by all!" — Chris Ariemma
"Maybe NOW our local government and beyond will do right by EMS all over the country to increase wages significantly to bring the workforce back to normal status!" — Perry Ellis
"Chest compressions, chest compressions, chest compressions. Way to go EMS being on top of the ball with CPR! Brought him back. My thoughts are with Damar and his family! Hoping for a full recovery." — Matt Wing
"Can't stand working a code with an audience. I can't even imagine doing in front of 80,000 fans in the stadium and millions of TV viewers." — Cookie Groover
"It looked like Commotio Cordis. TNCC book and a test question. Repolarization of the ventricles, blunt trauma to chest happens during that phase of the cardiac cycle." — Mira Kelley
"Obviously, Damar's health is top priority, but after that, I hope that EMS get a strong nod and that CPR sees an uptick in community involvement!" — Christopher Barney
"That's what makes a difference. Early recognition. Early BLS CPR. Proper prehospital ACLS. Transport to a facility able to provide post-CPR care." — Georg Pleninger