NC county approves non-emergency ambulance applications
The CEO of one of the two ambulance companies said the approval will free the county's EMS from non-emergency calls and create jobs
---
Daniel Kennedy
The High Point Enterprise, N.C.
DAVIDSON COUNTY, N.C. — Public hearings were held during a recent meeting of the Davidson County Board of Commissioners to address the county's non-emergency ambulance franchises.
Following the hearings, commissioners voted unanimously to approve ambulance franchise applications for LifeStar Emergency Services and Providence Transportation. Based in Forsyth County, LifeStar maintains a staff of 111 individuals, 95 of whom are EMT or paramedic level. Its proposal of a 24/7/365 operation was given the go-ahead by the board.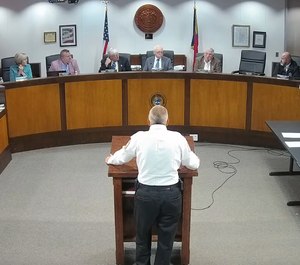 Providence Transportation, based in Davidson County, provides ambulatory and wheel-chair transportation services. The business, which currently employs 45, will expand the services they offer to include non-emergency stretcher patient transport.
The company will run 6 a.m. to 6 p.m. Monday through Saturday.
"The way the non-emergency franchises work is that they promote their own business," said Larry James, emergency services director. "The hospitals or assisted-living facilities can call basically who they choose to do that non-emergency transport. Particular citizens could obviously choose which entity they want to come and transport their relative or loved one to a doctor's office or an appointment."
David Stevens, president and CEO of Providence, addressed commissioners with a presentation directed as an appeal to provide an additional vendor. He clarified that it will not be in direct competition with the county EMS.
"This service will not compete with Davidson County EMS, but rather it will take the burden off of non-emergency calls, freeing up precious emergency service resources," Stevens said. "By allowing a Davidson County-based company to provide ambulance service, you will provide additional jobs to Davidson County citizens, improve availability, improve response times, reduce cost to citizens and improve the overall service to the Davidson County community."
Mike Hoots, owner and director at LifeStar, said his business operates with 27 ambulances and requested convalescent services.
James was asked by Chairman Don Truell if the county regulates cost of services provided by its vendors. The emergency services director explained the process, assuring the board neither franchise can charge more than the county's figure.
"They cannot exceed the county's cost, which is set by finance based on medicare allowables," James said. "They can't charge more than the county would charge, but they can charge as nominal a fee as they would want to."
———
©2019 The High Point Enterprise (High Point, N.C.)
McClatchy-Tribune News Service