Clinton Foundation announces free Narcan Nasal Spray for US high schools
Adapt Pharma partners with foundation, education departments, and school nurses to offer a carton of FDA-approved naloxone nasal spray to every high school
---
DUBLIN — Every high school in the United States is eligible to receive a carton of Narcan Nasal Spray at no cost through a partnership announced at the Clinton Health Matters Initiative Activation Summit.
Adapt Pharma will offer the needle-free Narcan Nasal Spray to schools through each state's department of education. This program will collaborate with the Clinton Health Matters Initiative, an initiative of the Clinton Foundation, as part of its work to scale naloxone access efforts nationally in response to the growing risk of opioid overdose among high school students.
"We are pleased to encourage public-private collaborations expanding access to naloxone," said Rain Henderson, Clinton Health Matters Initiative, CEO. "We are hopeful this effort will facilitate a dialogue amongst students, educators, health professionals, and families about the risks of opioid overdose and ensure naloxone is available in schools that decide to take steps to address opioid overdose emergencies."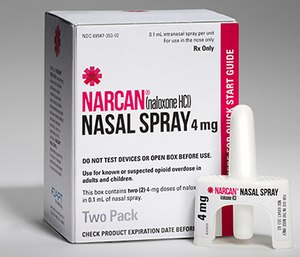 "We understand the crucial role schools can play to change the course of the opioid overdose epidemic by working with students and families. We also want every high school in the country to be prepared for an opioid emergency by having access to a carton of Narcan Nasal Spray at no cost," said Seamus Mulligan, Chairman and CEO of Adapt Pharma. "We look forward to working with our partners to implement these initiatives which build on the significant progress being made by legislators and community groups."
The National Association of School Nurses has also been given a grant from Adapt Pharma to support educational efforts concerning opioid overdose education.
"We educate our students, families, and school staff about prescription drug and substance abuse, and help families seek appropriate treatment and recovery options," said Beth Mattey, NASN president." Having access to naloxone can save lives and is often the first step toward recovery. We are taking a proactive approach to address the possibility of a drug overdose in school."
Earlier this month, Adapt Pharma, in partnership with the National Association of Counties, National Governors Association, National League of Cities and United States Conference of Mayors, announced it will offer Narcan Nasal Spray at a discounted Public Interest Price through the U.S. Communities Purchasing Alliance and Premier, Inc. to over 62,000 state and local government agencies.
Naloxone is an opioid antagonist indicated for the emergency treatment of known or suspected opioid overdose, as manifested by respiratory and/or central nervous system depression.