Ohio city worker arrested, accused of stalking EMT now reported missing
Lachelle Jordan told police that Michael Stennett often followed her in his personal vehicle while she was on duty, and also waited outside her home
---
May 12 update: EMT Lachelle Jordan has been found safe.
By Olivia Mitchell
cleveland.com
CLEVELAND — A Cleveland city worker was arrested Monday and accused of stalking a woman who has been reported missing, authorities say.
Michael Stennett, 65, a recreation worker, was charged in Cleveland Municipal Court with violating a protective order and stalking involving Lachelle Jordan, 30. Jordan's family reported her missing Sunday.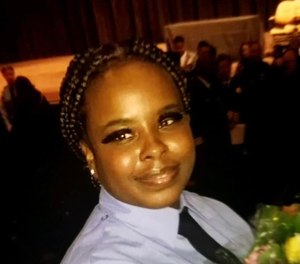 Jordan is a Cleveland EMS worker. She was last seen wearing a blue and white East Cleveland Fire Department sweatshirt with ECFD on the back and the fire logo on the front. She also wore green-and-white tie-dye pants and rainbow-colored Croc shoes.
Stennett has not been charged in Jordan's missing-person's case, police said.
His arrest on Monday stems from Jan. 4, when Stennett stood outside Jordan's home and refused to leave, according to court documents. The records state that Stennett "engaged in a pattern of conduct causing victim Lachelle Jordan to believe that he would cause her physical or mental distress as a result of his actions."
A protection order was served on Stennett on Jan. 13. Months later, on April 25, authorities told Stennett that if he did not comply with the no-contact order, he would be placed on GPS monitoring or be placed in jail.
Several times in April, Jordan told police she noticed Stennett following her in his personal vehicle while she was working, court records show. He also would wait outside her home, according to the records.
On Thursday, Jordan noticed Stennett watching her from his vehicle when she left her home, according to court records. She was reported missing days later.
Stennett is facing rape charges in Cuyahoga County Common Pleas Court. Last May, an arraignment judge set his bond at $10,000. Stennett posted 10% of it, and he was released.
cleveland.com and The Plain Dealer reached out to his attorney, Daniel Misiewicz, seeking a comment.
—
©2023 Advance Local Media LLC.
Visit cleveland.com.
Distributed by Tribune Content Agency, LLC.
McClatchy-Tribune News Service