NY EMS agency adopts therapy dog
Marley, a mixed breed rescue, completed an eight-week therapy dog training program and is now part of the CHS Mobile Integrated Health Care family
---
By EMS1 Staff
HENRIETTA, N.Y. — An EMS and healthcare agency recently added a new four-legged member to its ranks.
Marley, a mixed breed rescue, recently completed an eight-week training course through Therapy Dogs International (TDI) to become a canine therapy dog for the members of CHS Mobile Integrated Health Care (MIHC).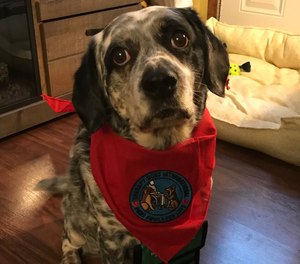 Originally belonging to a member of the staff, 6-year-old Marley will contribute to the well-being of the agency's employees. In order to do so, it was important that Marley be properly trained to behave appropriately.
"The certification process was actually quite regimented," said Gabrielle Hergert, CHS MIHC office manager and Marley's owner. "Now that she's been formally trained, I'm looking forward to her spending time with our volunteers and employees on a daily basis."
Research shows that therapy dogs help with reducing anxiety, increase comradery, encourage socialization and provide comfort to humans.