Bridge named after Pa. paramedic who died in the line of duty
The Matthew Smelser Memorial Bridge honors the Rostraver-West Newton EMS paramedic supervisor who was struck and killed responding to a crash in January
---
Paul Peirce
Tribune-Review, Greensburg, Pa.
WESTMORELAND COUNTY, Pa. — When drivers cross the newly named Matthew Smelser Memorial Bridge on Interstate 70 in South Huntingdon, Krisi Secrist said she hopes they recall the joy her uncle had helping others.
"You never had to ask Matt for help. He was always there to do anything for anyone and, despite his busy schedule, always found a way to share in our moments," his niece said.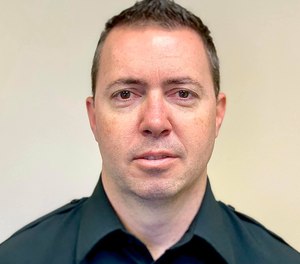 Secrist spoke Friday to about 50 family members, friends and co-workers from Rostraver-West Newton EMS who gathered for a dedication ceremony of new memorial signs renaming the bridge in Smelser's memory. Signs were placed on both sides of the bridge that spans the Youghiogheny River connecting South Huntingdon and Rostraver Township.
Smelser, 43, was a paramedic supervisor when he was killed Jan. 5 on a rescue call at the bridge.
He was struck and killed about 5:30 a.m. Jan. 5 by a tractor-trailer after he got out of his ambulance to tend to an accident victim along the interstate highway.
Secrist said that even after Smelser and his wife, Lynn, had their own children, Logan and Adriana, "we could still count on Uncle Matt to build our new toys and set up our new electronics for us" during Christmas season.
"Next week will be one of the hardest for us, our first Christmas without Matt," she said.
One of Smelser's longtime co-workers, Jeffrey Pesarsick, now a flight paramedic with STAT MedEvac, recalled how Smelser was always ready.
He talked about a conference he and Smelser attended in Washington, D.C., and, while the pair relaxed in a restaurant during a conference break, Smelser interrupted Pesarsick.
"Man, that guy over there does not look well," Pesarsick recalled Smelser saying.
"I no sooner took notice, and the gentleman fell over backwards (in his chair)," Pesarsick said.
The paramedics rushed over to help, finding the victim had no pulse.
"With no more communication than a look, Matt immediately started providing chest compressions. After several minutes of high-performance CPR, the federal law enforcement agent who collapsed regained pulses and consciousness," Pesarsick said.
Pesarsick praised Smelser's bedside manner with patients, which he witnessed when the pair worked together from 2002 until 2015.
"Matt's approach was serious, and as much as he could be loud and full of laughter (off hours), his bedside demeanor was calm, easy and compassionate. He had this soft-spoken way about him that allowed him to easily connect with people in the uneasiest of times. ... He genuinely cared for his patients," Pesarsick said.
State Rep. Eric Davanzo, a South Huntingdon Republican, referred to Smelser as a "genuine hometown hero" who died helping others.
"May this hero never be forgotten and his sacrifice never be lost for the people he served. I hope people remember the kind person he was," Davanzo said.
Davanzo and state Sen. Kim Ward, a Hempfield Republican, worked together to get the bridge dedicated in Smelser's memory.
Smelser's widow, Lynn, and their two young children also attended the dedication, held near the bridge at the Smithton Truck Stop.
Lynn Smelser thanked the group for the outpouring of support and well wishes the family received in the past year.
Born March 16, 1976, in Toledo, Ohio, Smelser was a son of Charles J. (Sharon) Thomas of Perrysburg, Ohio, and Sandra (Spivey) of Monessen.
A 1995 graduate of Frazier High School, Smelser continued his education with various paramedic and EMT classes. He worked as a paramedic for 24 years, becoming a supervisor for the Rostraver-West Newton EMS Department while also working for UPMC's Paramedic Response Unit.
The Carroll Township, Washington County, resident also was a decorated member of the UPMC Search and Rescue Unit with his K-9, Mondo.
___
(c)2020 Tribune-Review (Greensburg, Pa.)
McClatchy-Tribune News Service