NYC declares public health emergency due to measles outbreak
Following the declaration, city officials ordered mandatory vaccinations for all people in Williamsburg
---
Leonard Greene
New York Daily News
NEW YORK — A Bronx emergency room was treating a measles case Monday amid a national and local outbreak that saw city officials threatening to shut down local yeshivas if all students do not get vaccinated.
With the influx of cases reaching numbers not seen in years, the city's health department is jumping on the get-tough bandwagon, pressing responsible adults to take the steps to keep the preventable disease from spreading.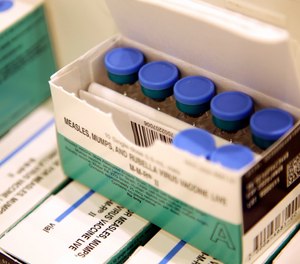 City health officials have threatened to fine and close several Jewish religious schools in Brooklyn for continuing to allow unvaccinated children to attend class despite previous warnings about a dangerous measles outbreak.
Since last fall, nearly 300 people, mostly children, have contracted the disease in the city, with the majority centered in the ultra-Orthodox Jewish communities in Williamsburg and Borough Park in Brooklyn.
Doctors said the outbreak began when an unvaccinated child visited Israel — where thousands of people have been sick — then caught the illness and returned to Brooklyn.
In December, the health commissioner issued a mandate that yeshivas in the affected areas must keep non-vaccinated children out of school. But a month later, that mandate was broken.
"In January, one Yeshiva in Williamsburg fell out of compliance with the Department's exclusion mandate, allowing unvaccinated children back into school or daycare," the Health Department said in a news release on Monday. "This single Yeshiva is connected to more than 40 cases, resulting in a large increase in measles cases and the continuation of the outbreak."
Health officials have been urging New Yorkers to get their children vaccinated to stem the outbreak of measles, a highly contagious disease that can cause pneumonia, encephalitis and death.
Meanwhile, in the Bronx, doctors at Montefiore Medical Center on Monday confirmed a measles case in the hospital's emergency room.
"We are in close contact with the NYC Department of Health," a hospital spokeswoman said in a statement. "We strictly adhere to the Centers for Disease Control and Prevention and local public health guidelines. We are reaching out to anyone who may have been exposed, and are providing information about measles, including how to monitor yourself and when to contact your doctor. We are setting up special locations for post exposure treatment and care as needed."
The city's yeshiva threat comes nearly two weeks after Rockland County announced it would ban unvaccinated kids from public places as part of a state of emergency to battle a measles outbreak.
The Rockland ban would have prohibited anyone under the age of 18 from public places within the county if they have not been vaccinated, but a state judge last week issued a temporary injunction on the order.
Judge Rolf Thorsen said such emergency orders cannot exceed five days.
Across the country, health officials said 465 measles cases have been reported this year, as of last week, up from 387 the week before. The 2019 tally is already the most since 2014, when 667 were reported. The most before that was 963 cases in 1994.
———
©2019 New York Daily News
McClatchy-Tribune News Service