Kansas City leaders announce public safety plans for Chiefs parade, after-party
Hundreds of law enforcement officers and about 200 firefighters will be on hand, and two emergency medical tents will be in place
---
By Bill Lukitsch
The Kansas City Star
KANSAS CITY, Mo. — As Kansas City Chiefs fans prepare this week to celebrate the team's second Super Bowl victory since 2020, city leaders on Monday said they want the upcoming parade and after-party to be safe and "family-friendly."
From the tarmac at Kansas City International Airport, as leaders prepared to welcome the team home, Mayor Quinton Lucas congratulated the Chiefs on the 38-35 win over the Philadelphia Eagles on Sunday night, saying he anticipates the upcoming events to be part of "one of the most exciting weeks in the history of Kansas City."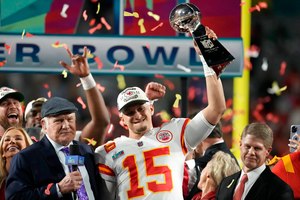 Lucas said the city has prepared for the big win by "investing mightily" to make sure the events will be safe and accessible. He encouraged parade-goers to bring kids and visit downtown businesses as they join in celebrating the victory.
"If you come through, bring your kindest selves, and more than anything make sure that you are a happy part of our celebration," the mayor said.
The parade kicks off at noon Wednesday. Street closures for the route are set to begin at 2 p.m. Tuesday and last through 7 p.m. Wednesday.
The route will start at Sixth Street and head south on Grand Boulevard through downtown and past the T-Mobile Center. Once it reaches Pershing Road, it will cut over and end at Union Station.
The parade will be followed by an hour-long rally that begins about 1:45 p.m. in front of Union Station and the National WWI Museum and Memorial's north lawn. Most Kansas City area school districts have canceled classes on Wednesday so families can attend the parade.
Public consumption of alcohol will be prohibited, said Kathy Nelson, CEO of the Kansas City Sports Commission.
Fans have been advised to travel light and not to bring bags and backpacks. Fans are also advised against bringing drones to the parade as authorities will be monitoring the airspace and the operation of such aircraft over large crowds is prohibited by the Federal Aviation Administration.
Kansas City Police Chief Stacey Graves said there will be hundreds of officers posted along the parade route to ensure an "enjoyable and safe" experience for all. Personnel working toward the city's public safety plan will include those from KCPD's investigations divisions, she said, along with some of the department's newest recruits.
Graves said the department is prepared to ensure there is not a repeat of February 2020, when crowds of people watched a police chase unfold after a person drove through a traffic barrier.
Graves also advised those bringing children to the parade to have a plan in place should they become separated during the large-scale event. She suggested having young children wear wristbands or some type of identifier to help officers who'll be prepared to reunify any families and friends who lose track of children during the parade.
Seven reunification sites will be established along the parade route, Graves said, which will be shared ahead of time on the department's social media pages. Kansas City police are also relying on help from 19 different state, local and federal agencies to assist with keeping the events safe, Graves said.
Graves also assured the public that the city's patrol divisions will be staffed to address calls for emergency services around Kansas City.
Assistant Fire Chief Jimmy Walker said the Kansas City Fire Department would also be dedicating heavy resources to the parade to address any emergency medical situations that may arise. He said KCFD was also relying on mutual aid agreements with neighboring jurisdictions to make that happen.
Roughly 200 firefighters were to be assigned the parade route on Wednesday to provide emergency medical situations, Walker said. He added that two emergency medical tents would be set up near Union Station.
As an estimated 500,000 people are expected to descend on downtown Kansas City for the festivities, officials are also encouraging people who wish to attend the parade or after-party to make transportation arrangements.
Parking downtown is expected to be limited, and the Kansas City Transportation Authority will have posts around the metro with buses on standby to shuttle people to and from downtown.
Chuck Ferguson, of KCATA, said five park-and-rides would be offered on Wednesday for the parade: Hy-vee Arena, Kansas City Zoo, Worlds of Fun, Oak Park Mall and the 47th and State Metrocenter. He said there will be roughly 400 buses on hand for the festivities in downtown Kansas City.
For updated information on the parade and celebration visit the parade website at www.chiefsparade.com, sign up for text alerts from AlertKC by texting KCPARADE to 888-777, or follow @KansasCity and @SportKC on Twitter or find them on Facebook and Instagram.
©2023 The Kansas City Star.
Visit kansascity.com.
Distributed by Tribune Content Agency, LLC.
McClatchy-Tribune News Service