'It's real': EMS chief, battalion chief describe MCI at Ky. bank
A total of 18 EMS providers responded, and 25 Louisville Fire crewmembers assisted with treatment, triage and transport
---
By Leila Merrill
FireRescue1/EMS1
LOUISVILLE, Ky. — Public safety personnel spoke with WHAS11 about their experiences responding to the fatal active shooter event Monday at the Old National Bank and the future of such responses.
Six people were killed in the incident, including the gunman, and several others remain hospitalized.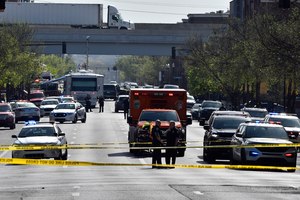 "It's horrifying once you realize that it's real, it is happening here," Jesse Yarbrough, chief of Louisville EMS, said. "I think it strikes you when you arrive at the scene and see everyone doing what they've been trained to do and realize that [it's] not a training, it's a real event."
Maj. Bobby Cooper, Louisville Fire's battalion chief, said it was clear "that it wasn't just another run."
"It's tragic. It's amazing how much damage can be done in nine minutes, and how much can be lost in nine minutes," Cooper said. "I hope that the community has confidence in public safety's ability to keep them as safe as possible."
A total of 18 EMS providers responded. Twenty-five Louisville Fire crewmembers assisted with treatment, triage and transport, the news outlet reported.
Their gear included combat tactical equipment, and they used a mass-casualty incident bus. 
The first responders go through MCI training annually.
Yarbrough and Cooper told WDRB that the communication between departments and their training prepared them for a fast, effective response.
They also looked to the future.
"Every event affords you the opportunity to improve your response for future events," Yarbrough said.
"There's always ways to improve," Cooper said. "We'll continue to train. We'll continue to be as proactive and progressive as we possibly can." 
Nine people were transported to the hospital, including rookie Louisville Metro Police Officer and firefighter-EMT Nickolas Wilt, who remains in critical condition.
---

Read next
5 ways to be prepared for an MCI in your community
Focusing on swift triage, being good at the basics and having a plan for exfiltrating the wounded are essential steps to immediate lifesaving measures
---