How to mentally, physically prepare for a mass violence event
As responders, we can't run from danger because we're tasked with mitigating the incident and managing the aftermath
---
The recent terror attacks in England continue to keep mass violence events front and center of the public's attention. One online source indicates that there were over 1,400 attacks worldwide in 2016 resulting in 14,000 fatalities. In 2017, so far, there have been more than 540 attacks with more than 3,700 fatalities recorded. While several of the incidents have been well publicized, most terrorist attacks occur with minimal reporting.
As public safety providers, we have a different viewpoint than the community we are sworn to protect. Yet we are susceptible to the same, if not higher risk of injury or death as citizens. When confronted with a rapidly evolving, violent situation we are subjected to the same type of hesitation or deliberation that was recently described by an FBI threat assessment instructor and researcher of citizen responses. The article goes on to describe the potentially best responses for citizens to protect themselves during an attack.
Here are three points that apply to emergency responders.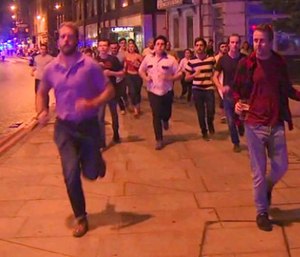 1. Always be prepared
Let's be honest, most of us hardly ever think about what we would do if confronted with a violent encounter. This is what contributes to freezing in place, creating the opportunity to be injured or killed.
Mentally rehearse behaviors or actions you can do if you need to suddenly escape from any violent situation. Just having action plans in the back of your mind may allow you to overcome the sudden debilitating panic and get yourself to a safe situation.
2. Help can take different forms
As a citizen, the best response to minimize the risk of death appears to be running from the situation. As responders, we can't run – we're tasked with mitigating the incident and managing the aftermath.
But we can think about where and how we deploy ourselves to best protect us and the public. Vehicles can be used for shields or rapid evacuation of civilians. Public address systems can be used to alert those within the hot zone to evacuate and to keep others from entering.
3. Hide or fight
The nightmare scenario of being pinned down during an active situation is a real possibility. Hiding might be a way to protect yourself, but it doesn't appear to be as effective as fleeing the scene.
If the worst case scenario presents itself and you have to defend yourself, then fight as if your life depends on it – because it does. Use anything you can – bags, oxygen tanks, the ambulance itself. Don't hesitate to strike and don't hesitate to run at the first opportunity.
Carrying a firearm bears special responsibility. Be well-trained, well-practiced and prepared to take a life. The last thing you want to do is to shoot the wrong person, be it a bystander or another member of the public safety team.
As our society continues through this period of violence and uncertainty, we must be ready to respond, both as EMS professionals as well as individuals. One day the life you save may very well be your own.