2 dead in Calif. school shooting; 4 wounded, including suspect
Officials say the 16-year-old suspected shooter is in "grave condition" from a self-inflicted gunshot wound
---
Even though Santa Clarita is the third-largest city in LA county, it is still a very close-knit community. First responders were not only responding to students, during this incident. In some cases, they were responding to immediate family. Learn more about the elements that complicated the operational response in this analysis by EMS1 columnist Rob Lawrence.
By News Staff
SANTA CLARITA, Calif. — Two students were killed and four were wounded in a shooting at a California high school Thursday morning.
Police and fire department officials said during a press conference that they received the first 911 calls about the shooting at Saugus High School shortly before 7:40 a.m. local time.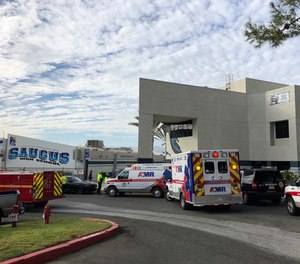 When emergency responders arrived minutes later, they discovered the six wounded students in the school's quad area, including the suspected shooter, and transported them to three area hospitals.
Two victims, a 14-year-old boy and a 16-year-old girl, died at the hospital, according to the Associated Press.
The other three victims are a 14-year-old girl, a 15-year-old girl and a 14-year-old boy.
The hospital where the surviving 14-year-old boy was transported listed him as being in good condition. The fire department reported the other surviving victims were in critical condition.
The suspected shooter, described by police as a 16-year-old Asian male, was also hospitalized and is in "grave condition" from a self-inflicted gunshot wound, the Santa Clarita Valley Sheriff's Station reported.
Los Angeles County Fire Department Chief Daryl Osby said that seven paramedic squads, 10 fire engines, 24 ambulances and a helicopter responded to the scene.
"There were several members of my department, and this is a very close-knit community, that had kids who were also at the school," Osby said. "Our department will continue to support our personnel with appropriate mental, spiritual and behavioral support, along with their families, and we will keep everyone else involved in our deepest thoughts."