14-year sentence for drunk driver in crash that killed 2 Fla. paramedics
AMR Paramedics Paul Besaw and Lahiri Garcia were killed in the rollover ambulance crash in 2017
---
Hannah Winston
The Palm Beach Post, Fla.
WEST PALM BEACH, Fla. — For Dawn Witherspoon Besaw, Wednesday morning was bittersweet.
The man who killed her husband, Paul, and fellow paramedic Lahiri Garcia pleaded guilty to driving drunk in the 2017 fatal crash that killed them on Indiantown Road in Jupiter. The chapter of her life with court hearing after court hearing and seeing Genaro De La Cruz Ajqui were over, she said.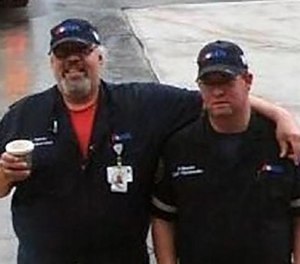 At the same time, she doesn't think 14 years in prison is long enough for taking the lives of two people whose job it was to save lives.
"I'm glad he's going to be serving time, but nothing will bring my husband back," she said Wednesday.
Ajqui, 41, pleaded guilty to two counts of DUI manslaughter and was sentenced to 14 years in prison by Circuit Judge Jeffrey Gillen.
Ajqui, who was represented by Assistant Public Defenders Stephanie Gagerie and Harris Printz, was given credit for the more than two years he's spent in jail awaiting a conclusion in the case.
Witherspoon Besaw, who gave an impact statement in court Wednesday and also spoke with The Palm Beach Post, said her husband was the "guy you could always call in any situation, because he was compassionate, caring and kind."
In court, she told the judge she didn't understand why drunken driving wasn't looked upon as harshly as other causes of death.
"The man that killed my husband made a choice to get behind the wheel of a car and drive drunk," she said.
She told The Post that if the man made a choice to use a gun instead, it would have been more severe punishment.
On June 1, 2017, investigators say Ajqui was driving a Chrysler Sebring convertible east on Indiantown Road at 3 a.m. when he attempted to make a U-turn at Philadelphia Drive.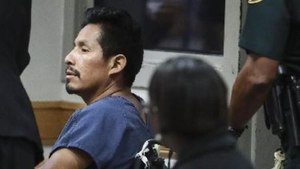 Besaw and Garcia were headed westbound on Indiantown Road in an ambulance. As Besaw approached the intersection, witnesses said Ajqui made the U-turn directly in front of Besaw, failing to yield, according to the report.
The ambulance crashed into Ajqui's car and the vehicles slid in the roadway, with the ambulance making its final resting stop on its driver's side.
Both Besaw and Garcia died at the scene.
Though it's been hard without him, Witherspoon Besaw is grateful for Jupiter police, who have been with her throughout the process. She said she and her husband's 8-year-old daughter, Allison, are doing the best they can to remember him and continue his legacy, including a foundation they're working on in his name.
"I'm glad that this chapter is over and we can move forward doing great things (in his honor,)" she said.
———
©2020 The Palm Beach Post (West Palm Beach, Fla.)
McClatchy-Tribune News Service