S.C. county public safety committee recommends single ambulance provider
The new response model would include EMT staffed ambulances, and send paramedics, when required, via quick response vehicles
---
By Jessie Forand
ANDERSON COUNTY, S.C. — A public safety committee in Anderson County, S.C., on Tuesday voted to recommend a single transportation provider to area residents.
According to WYFF 4 News, Medshore Ambulance Services was chosen as the top contender by the committee out of nine total bids.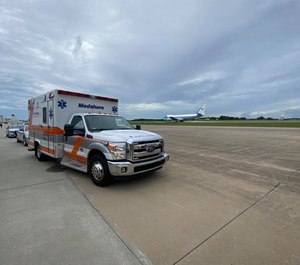 "I think they are truly trying to fix a problem that isn't broken," Teresa Locke Morgan, who has a background in emergency medical services, said, as reported by WYFF. 
This work is part of a proposal that would also require all paramedics to work under Anderson County, which has plans to add quick response vehicles to its call response repertoire. 
Under the proposal, ambulances would be equipped with two EMTs, and the QRVs would be equipped with one ALS paramedic. The QRV would be dispatched to any call that rises to the level of needing paramedic-level care, the county's EMS Coordinator, Don McCown, said. 
McCown called the move cost-effective and noted it could save $3 million. "So roughly 96% of the calls that were doing don't require a paramedic so we are paying for that source that wasn't really needed," McCown said.
Opponents, including Morgan, asked how this would impact the county's current paramedics and rescue crews. McCown said employees would have the opportunity for a competitive salary and the system will "basically hire all personnel who want to come to work." 
Another bidder, Ryan Thorne, CEO, Thorne Ambulance Service, said, "I think the citizens of Anderson County really need to become educated on this issue, I think they need to understand how this impacts them, that maybe they don't need an ambulance every day but the day that they do need an ambulance is probably going to be the most critical day in their life."
Anderson County Council is expected to vote on the measure July 20.