Medics run half marathon in flight suits
Eight Midlands Air Ambulance medics finished the half marathon to raise funds for their nonprofit EMS service
---
STOURBRIDGE, England — Midlands Air Ambulance paramedics completed a half marathon in their flight suits Sunday to raise money for their nonprofit organization.
Eight medics participated in the Birmingham Half Marathon wearing their flight suits and carrying two medical bags weighing 70 pounds together, Worcester News reported.
The nonprofit air ambulance service relies solely on donations. The medics were trying to raise almost $4,000 to cover their $9 million annual operational costs.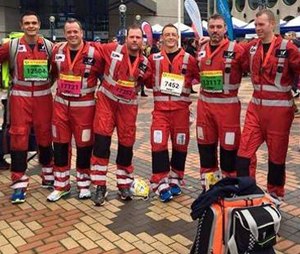 "One of my colleagues came up with the idea of running in flight suits and then we were joking about carrying the bags then the next minute it's a plan," said Stephen Mason, part-time paramedic with Midlands Air Ambulance.
"It is important to keep us in the air because we cover six counties and on average over the three bases we have eight missions a day and it costs around £2,000 every time we're called out," he said.