9/11 victim fund faces amendment hurdles
Sen. Rand Paul's amendment would offset the costs of compensation by cutting other programs, including Medicaid
---
By Michael McAuliff
New York Daily News
WASHINGTON D.C. — A measure to permanently fund Sept. 11 compensation faces just two last hurdles — a pair of amendments by renegade conservative Republicans Sen. Mike Lee and Rand Paul that would either cap payouts or threaten passage altogether.
The amendment by Paul, of Kentucky, who blocked passage of the bill by unanimous consent last week, would offset the costs of compensation by cutting other programs, including Medicaid.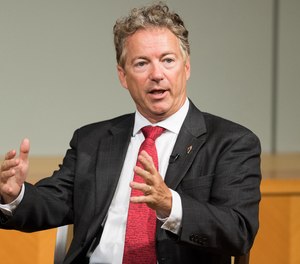 Multiple sources told the New York Daily News it is unlikely to pass, but if it did, would jeopardize the larger legislation because it would pit responders against other Americans in need.
Democrats would be adamantly opposed to such cuts, according to a memo by Senate budget staffers that the News obtained.
"There is no reason why Medicaid, for instance, must be cut in order to fund (compensation) programs for 9/11 first responders," the memo says. And it adds that the idea of offsetting the costs of helping 9/11 victims while "the nearly $2 trillion cost of the GOP's 2017 tax cuts may simply add to the deficit is wholly indefensible."
Paul's would cut $2 billion a year from elsewhere in the budget for five years to make up for the Congressional Budget Office's cost estimate of $10.180 billion for the bill over its first 10 years. Since his cuts, which he calls "sequestration," are so broad, they would take in what the Democrats believe are constitutional dubious areas, such as judge's salaries.
Lee, of Utah, has a better chance of passing his amendment, and it probably would not kill the bill — but it would cap the first 10 years of the program at the CBO estimate, with just $10 billion more to last until 2092.
The CBO notes in its estimate, however, that it is highly uncertain, and that if diseases such as the cancers showing up at increasing rates continue to grow, it could be $4 billion short. And it could be worse if more of the slower-emerging ailments are covered in the program later on, as expected.
Jake Lemonda, head of the Uniformed Fire Officers Association, said he respected Lee's and Paul's concerns, but suggested they were missing the point, especially Lee with his caps.
"I wish I had ability to put a cap on all the people who are going to get sick in the future, but I don't have that ability," Lemonda said. "Exactly as all the health officials said early on, it's going to take some time for theses cancers to manifest, and what we're witnessing is their concerns are coming to fruition."
Responders and other survivors who have pushed Congress to act have insisted that caps be avoided so that sick and dying cops, firefighters and other people who answered the call of 9/11 don't have to again embark on arduous campaigns to lobby lawmakers.
The new compensation bill is named "Never Forget the Heroes: James Zadroga, Ray Pfeifer and Luis Alvarez Permanent Authorization of the September 11th Victim Compensation Fund Act."
Pfeifer and Alvarez both were dying of stage four cancer while they lobbied Congress.
Lee's office said he wanted to cap payouts as a guard against fraud and abuse, but it could require men and women to again make those painful treks to Capitol Hill.
And Lemonda argued it was unnecessary, since the measure covers only people who can prove they were affected, and the program has been under rigorous review since it started in 2011, under the control of the Department of Justice.
"This legislation has been under the oversight of Congress, it's been audited several times, there is a monitor that's in place," Lemonda said. "This is one of the most efficient programs that's ever been run, on both sides, the health care program and the victim compensation fund."
Several sources said Republican Colorado Sen. Cory Gardner was pushing his colleagues to oppose the amendments, although his office declined to elaborate.
The current Victim Compensation Fund is due to end in 2020. The Justice Department official who runs it, Special Master Rupa Bhattacharyya, slashed payments by at least half in February because it is running out of money far sooner than predicted. Hundreds of steeply slashed payments have already gone out.
Paul has insisted he does not want to kill the bill. His office pointed to his record of consistently trying to oppose new spending that does not make cuts elsewhere, including the GOP's 2017 tax cuts. Paul offered an amendment to pay for those, but still voted for the cuts after his amendment failed.
Votes on Lee's and Paul's amendments are set for Tuesday afternoon, followed by a vote on the full bill.
———
©2019 New York Daily News
McClatchy-Tribune News Service