W.Va. EMS officials: State mask rule unfairly singles out EMS providers
The West Virginia EMS Coalition asked the state's health department secretary to rescind the rule, saying it is unnecessary and is unfairly targets one group
---
By Laura French
HUNTINGTON, W.Va. — A West Virginia EMS organization and other EMS officials have voiced objections to an emergency rule passed last week requiring EMS providers statewide to wear masks on all calls and keep a distance of 6 feet from members of the public who aren't patients. 
EMS officials said the rule is unnecessary and improperly singles out EMS providers while not holding other first responders and healthcare professionals to the same standards, according to The Herald-Dispatch.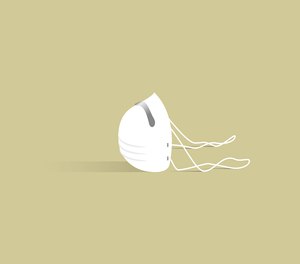 Cabell County EMS Director Gordon Merry told The Herald-Dispatch that he's "100% behind wearing PPE" but that his agency has already "gone above and beyond" trying to provide PPE for members and that the legislative rule would have an negative impact on public perception. 
The West Virginia EMS Coalition sent a letter to state Department of Health and Human Resources Secretary Bill Crouch calling for the rule to be rescinded. The coalition stated that the rule was unnecessary, as the vast majority of EMS personnel in the state are already wearing masks for every patient encounter and that those who weren't were "an extreme minority," The Herald-Dispatch reports. 
The coalition also questioned why hospital, nursing home and home healthcare workers were not included in the mandate. 
Crouch said at a press briefing last week that the rule was put in place after reports of first responders in the state failing to wear masks, mentioning two police departments that have had COVID-19 outbreaks in Kanawha County. 
Crouch said last Wednesday that he stands behind the emergency rule and that it shouldn't matter to EMS providers if they're already wearing proper PPE.