Private N.J. agency suspended after unrestrained patient dies in rig crash
State investigators found that Guard Well Medical Transportation failed to ensure its vehicles were properly staffed during transports and failed to properly train its employees
---
By Jackie Roman
nj.com
A private ambulance company has been suspended from operating in New Jersey pending further investigation by the state Department of Health after a fatal ambulance crash last year that left an unrestrained patient dead, state officials said.
Guard Well Medical Transportation failed to ensure its vehicles were properly staffed during transports and failed to properly train its employees, according to a Jan. 6 letter from state investigators from the state Office of Emergency Medical Services.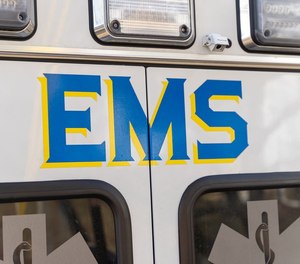 The company also failed to ensure crew members had valid driver's licenses and CPR certifications, investigators said.
"Even more, Guard Well Medical Transportation is hindering OEMS's investigation into this matter," the letter said. "Consequently, the Department finds that Guard Well Medical Transportation is a serious and immediate threat to public health and safety."
Pavan Patel, owner of Guard Well Medical Transportation, declined to comment on the suspension or the fatal crash that triggered the investigation.
A Guard Well Medical Transportation vehicle on an Oct. 22 non-emergency transport assignment in Clark struck a telephone pole, throwing the patient inside across the ambulance and causing serious injury, according to the state Department of Health.
Investigators determined the patient was not properly secured to the stretcher in the rear of the ambulance. The patient "was ejected from the gurney and ended up in the small stairwell of the side door of the ambulance," according to a police report cited by state health department investigators.
Nine days later, the patient — who was not identified by investigators — died of injuries sustained in the crash, state officials said.
Clark Police Department officials denied an NJ Advance Media request for a copy of the Oct. 22 police report for the accident under the state's Open Public Records Act, citing the ongoing investigation. The Union County Prosecutor's Office is not involved in the investigation of the patient's death, authorities said.
The ambulance driver is facing charges for speeding, driving with an expired license, careless driving, use of a handheld-wireless device and other traffic violations, according to Clark Municipal Court Records.
The ambulance driver could not be reached for comment.
The state Department of Health investigation found neither the ambulance driver nor the other Guard Well employee with him at the time of the crash were certified Emergency Medical Technicians, or EMTs. State law requires non-emergency ambulances be staffed with at least one EMT and one first responder who meet the state' staffing rules.
Guard Well regularly broke staffing rules, according to investigators. An audit of payroll and scheduling records found a significant number of days where there were allegedly no certified EMTs working in any of the company's ambulances.
Investigators could not find CPR certifications or evidence of basic medical training for either employee involved in the Oct. 22 crash, state officials said.
Guard Well was also unable to provide verification of education or training conducted for any staff member, investigators said.
"The above-cited deficiencies demonstrate a gross and serious disregard for the department's rules and applicable laws," investigators concluded.
It is unusual for an ambulance provider's license to be suspended by the state's Office of Emergency Medical Services. Only three providers, including Guard Well, have been issued suspensions in the past five years, according to state data.
In July 2018, Delran Emergency Services had its license suspended after state investigators learned Chief Donald Horner was working without proper credentials and forging paperwork to hide it, state officials said.
Horner, a former police chief, continued working for Delran Emergency Squad despite having an EMT certification that expired in 2010 and EMT-instructor certification that expired in 2016, according to a suspension letter from the DOH.
When investigators visited squad offices to conduct an audit, Horner threatened them with bodily injury, Department of Health officials said.
Horner was later arrested and charged with third-degree offenses of insurance fraud and tampering with public records. He pleaded guilty to the charges in June 2019 and was sentenced to 30 days in jail.
Delran Emergency Squad has since submitted a corrective action plan to the state and was placed back into service, said Chuck McSweeney, the squad's chief administrator. The state Department of Health confirmed the emergency squad was permitted to begin service again.
In August 2019, ambulance provider Americare had its license suspended after state investigators looked into a complaint of serious safety issues and found vehicles with "balding tires, a door that came off its hinges when it was opened and unsecured oxygen cylinders," according to a notice of suspension letter sent by the state Department of Health.
At the time, Americare vehicles were responsible for providing 911 emergency medical services for Irvington and South Orange. However, Americare failed to notify the state that it was providing these services, as it is required to do under law, according to state Department of Health officials.
Following the suspension, additional complaints alleged Americare's paper patient care reports were not properly stored or maintained to protect patient confidentiality, the company was permitting uncertified individuals to staff its ambulances, and there were no standard operations procedure manuals for the agency, investigators said.
State health officials moved to revoke Americare's license in 2020. Americare appealed and the case is still pending in the state Office of Administrative Law. State Department of Health officials would not comment on the case.
Thank you for relying on us to provide the journalism you can trust. Please consider supporting NJ.com with a voluntary subscription.
___
©2023 Advance Local Media LLC.
Visit nj.com.
Distributed by Tribune Content Agency, LLC.
McClatchy-Tribune News Service