EMS couple injured in Las Vegas shooting sues shooter
EMTs Colby Jackson and Shannon Muttram filed a lawsuit against the estate of Stephen Paddock for a collective $4 million
---
By EMS1 Staff
ORANGE, Calif. — An EMS couple who were both injured in the Las Vegas shooting have filed two lawsuits against the estate of the shooter.
The Blast reported that Care Ambulance Service EMT Colby Jackson filed a $2 million lawsuit against the estate of Stephen Paddock, saying he has been "harmed and incurred damages" due to Paddock's "criminal conduct."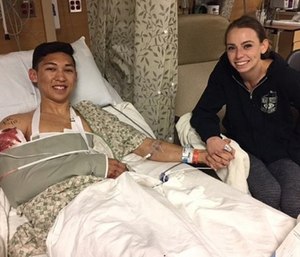 "The physical and mental pain, suffering, anguish and disability which Colby Jackson is reasonably certain to experience in the future as a result of the incident," the lawsuit said.
Jackson and his girlfriend, EMT Shannon Muttram, were off-duty and attending the concert at the time of the shooting. When the shooting began, Jackson shielded Muttram and was shot in the arm.
Muttram was also injured in the shooting and filed another $2 million against Paddock's estate.