Minneapolis EMS union pushes back on mental health response program ahead of roll out
The union accuses local government officials of excluding EMTs, paramedics from offering input
---
Libor Jany
Star Tribune
MINNEAPOLIS — The union that represents Hennepin County's paramedics, EMTs and emergency medical dispatchers accused Minneapolis officials of planning to use unarmed civilian personnel for certain mental health emergencies with little to no input from health care first responders.
Sam Erickson, vice president of the Hennepin County Association of Paramedics and EMTs, or HCAPE, said the union was not included in "any planning or coordination for the new civil response teams." He said it was also his understanding that the new teams are not "fully integrated into the 911 system," despite Hennepin EMS chief medical director Dr. Nick Simpson's "best effort" to work with city officials.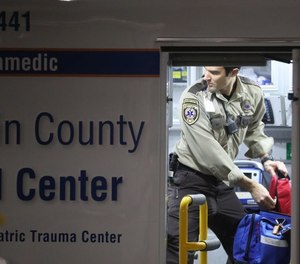 The statement comes after Minneapolis announced earlier this month that it would start sending teams of unarmed mental health professionals to certain calls, instead of police — following in the footsteps of cities like Denver and Eugene, Ore. But, the union's response underscores the growing pains that are certain to occur as the city sets out to "reimagine" public safety. The mobile response pilot program is expected to roll out sometime next month. City officials have so far offered few details provided few details about how it would work, but acknowledged that officers would will still respond to some mental health-related emergencies, particularly those involving a weapon.
"Integration allows for improved communication and planning, which ultimately keeps everyone safer," Erickson said in the statement. The disconnect, he said, means that when people call 911 seeking a non-police response to a behavioral health emergency they may not necessarily be connected with members of Canopy Mental Health & Consulting. The Richfield-based company beat out three other providers to earn a two-year, $6 million city contract to provide the round-the-clock response services.
Another complicating factor, Erickson said, is that Hennepin EMS has an internal policy that requires paramedics to wait to enter a scene for certain emergencies until police have deemed it safe — "Code 4" in first responder terminology. Some behavioral health-related calls can be handled by civilians, he said, but at times "the police are necessary to keep both the patient and the EMS providers safe."
"HCAPE is unaware of any management plans to change said policy to allow civil response to call a scene safe and request an ambulance for transport," said a statement by the union, which represents about 160 paramedics and dispatchers in Hennepin County. "Ultimately HCAPE has two guiding principles: the safety of our members and providing world class medical care. Mental health in an emergency setting is complex and requires a well thought out and collaborative approach."
A message left for Canopy seeking comment went unreturned. Council Member Steve Fletcher on Wednesday pushed back on the notion that Hennepin EMS wasn't given an opportunity to weigh in, saying that city officials had repeatedly reached out over the three years that the program has been in the works.
"They fairly consistently have not been interested in partnering in the project," he said in a phone interview.
He also disputed the assertion that the crisis teams wouldn't be integrated into the city's 911 dispatch system, which he said is separate from the countywide network.
Fletcher said that one of the cities that that city staff studied in developing the program was Denver, whose Support Team Assistance Response (STAR) pilot program pairs paramedics and clinicians on calls related to mental health, depression, poverty, homelessness, or substance abuse issues.
"That was something they had to get those teams on the radio system, for dispatch. And in Minneapolis we don't have to do that," Fletcher said. "It doesn't sound like they can meet us where we are, so I don't think there is alignment right now."
But, he added, "I think we continue to be open to partnership with EMS as they're interested but we're not going to totally shift the goals of the program."
Some of the pushback is to be expected, Fletcher said, "any time you're doing systems change."
"You're always going to run into places where people are going to say I experience this differently," he said.
According to officials, city police officers respond to more than 6,000 behavioral health-related calls a year.
The pilot launch was cheered by some community activists and mental health specialists as a first step in fulfilling a pledge by city officials in the wake of George Floyd's murder last summer to reduce the city's reliance on police and develop new strategies for keeping communities safe.
Similar shifts are being considered by cities across the country.
Advocates hope the new approach will result in fewer people in crisis being arrested or involved in a potentially violent confrontation with police. The change, they say, would also free officers to fight violent crime.
And while MPD, like other major departments, has for years trained officers in crisis intervention, some argue that sending an armed officer to try to defuse a situation involving someone in the midst of a crisis could have the opposite effect.
Mental health experts agree, pointing out that a specialist is likely to take a more empathetic approach and be better equipped to recognize the signs of someone with a mental disorder, whose behavior even a trained officer may interpret as uncooperative and potentially threatening.
At a subcommittee meeting last week, council members suggested that Canopy — which is majority Black-owned and was founded in the last summer amid the COVID-19 pandemic and the unrest that followed George Floyd's murder — was chosen in part because it was "culturally competent" and shared the community's values.
According to the company's website, its approach to "healing and coping" is "informed by collective knowledge and resources, identification of natural and cultural strengths, and affirmation of dignity above all else."
Some, both inside and outside of MPD, point out that police may still be called because some mental health calls can escalate without warning.
What remains unclear is how the new program will work with the county's own mobile crisis team — one of several dozen statewide — or with the MPD's mental health co-responder program, which pairs officers — wearing "soft uniforms" of polo shirts and navy pants, and driving unmarked cars — with mental health counselors.
In December, the City Council voted to redirect nearly $8  million from the Minneapolis Police Department's budget to fund its vision of crime prevention, which prioritizes mental health care and drug treatment to address the cycles of trauma that can lead to violence in poor communities.
City officials said they would spend the next few months evaluating the program's effectiveness, before deciding whether to make the program permanent.
(c) 2021 StarTribune
McClatchy-Tribune News Service