FDNY EMS union head: City must prioritize provider safety in new mental health call plan
FDNY EMS Local 2507 President Oren Barzilay released a statement on the city's plan to send EMS providers and mental health professionals to some calls instead of police
---
By Laura French
NEW YORK — The head of the FDNY's EMS union has released a statement following New York City Mayor Bill de Blasio and First Lady Chirlane McCray's announcement of a new pilot program for mental health calls in the city. 
The new program, announced in a press conference Tuesday, would send teams of EMS providers and mental health professionals to some mental health 911 calls instead of police officers.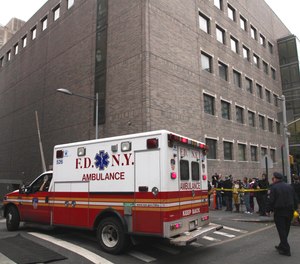 McCray said the teams will only be sent to calls deemed safe, based on whether or not the patient has a weapon or is exhibiting violent behavior, and that the goal of the program is to "provide better and more compassionate support" for those experiencing a mental health crisis. 
FDNY EMS Local 2507 President Oren Barzilay released a statement shortly after the program was announced, saying, "The Board of EMS Local 2507 is willing to begin discussions about this new City Hall ED [emotionally disturbed individuals] working group theory, but let's be clear, we must have a full seat and voice at the table, along with significant discussions about safety and security for our members, as well as fair compensation for the new and extraordinary risks they are being asked to take."
Barzilay noted that ED calls are currently dispatched through the NYPD and considered to be high-risk "due to the uncertain mental and emotional condition of the subject of the emergency call."
"The de Blasio Administration is now asking our members, some barely paid above the minimum wage, to step into this even higher risk role, without physical protection," Barzilay stated. "The physical and psychological safety of FDNY EMS responders must be the first priority, but the city must also do much more to be sure that our own members can access PTSD counseling, not currently available to them, and there is no further excuse for the poverty wages this dedicated EMS workforce is forced to accept." 
The statement concluded by saying that FDNY EMS members have always put the health of fellow New Yorkers above their own, as shown through the COVID-19 pandemic. 
The pilot program is expected to begin within the next few months in two neighborhoods in "high-needs" areas, McCray said during Tuesday's press conference.