UK paramedic, patient form friendship after Manchester Arena bombing
Paramedic Paul Harvey and bombing victim Martin Hibbert bonded over their favorite soccer team, Manchester United
---
By Leila Merrill
EMS1
MANCHESTER, England — Martin Hibbert has said he would not be alive today without treatment by Paramedic Paul Harvey after the 2017 bombing at the Manchester Arena. After that fatal incident, the two became friends, bonding over their shared love of Manchester United, the BBC reported.
The two reconnected when Harvey contacted Hibbert after seeing him on a TV show about survivors of the bombing.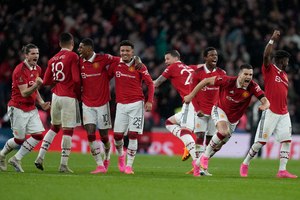 "We met up in 2018 at a fundraising event and have been like brothers ever since," Hibbert told BBC Radio Manchester.
"I found out he was a big Manchester United fan and I said 'look, when I'm better and when I'm ready to do it we are going to go to Old Trafford', which we did about two to three years ago and then I promised him if we ever got to an FA Cup final we'd do it."
Hibbert said he surprised Harvey with tickets for the semi-final match against Brighton. Manchester United won 7-6 after a sudden-death shootout.
"It was emotional," Hibbert said. "It wasn't just football, it was about love, friendship and what can come out of such a horrible attack."
The two men plan to head back to Wembley in June for the final against local rivals Manchester City.