Israeli medic to address Middle East crisis, rescue efforts at Fla. event
Hatzalah/Rescuers Without Borders – an Israeli volunteer organization of medics, paramedics and doctors – will host the event to raise awareness
---
Sergio Carmona
South Florida Sun-Sentinel
A medic from Israel is coming to South Florida to give a demonstration on emergency first-aid and discuss the recent crisis in the Middle East.
Hatzalah/Rescuers Without Borders – an Israeli volunteer organization of medics, paramedics and doctors – will host an event with guest speaker Eyal Radami at 6:30 p.m on June 16 at a kosher restaurant in Boca Raton.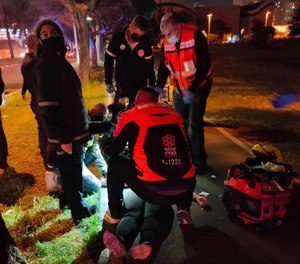 Attendees will have the opportunity to hear Radami, a medic from Hatzalah (Hebrew for rescue), share information about the current situation in Israel regarding the Gaza war and the violence that has occurred on the ground there. His demonstration on cardiac arrest and the Heimlich maneuver will take place before the talk.
Linda Chase, development associate for Hatzalah, explained what the organization hopes attendees can take away from the presentation.
"Hatzalah is not political," Chase said. "They are a humanitarian organization. Everyone is a volunteer medic who lives throughout Israel, mostly in Judea and Samaria and the Old City of Jerusalem. The Hatzalah volunteers receive the highest level of training. They are always first to arrive at an emergency because they live nearby."
The event is also an opportunity for people to donate to the organization. Chase said all funding for the volunteers' equipment and training come from private donations.
Contact Chase at linda@hatzalah.org.il or 954-708-9228 to RSVP for the event. Details, including the name and location of the restaurant, will be sent after registering. Everyone must pre-register, as no walk-ins are allowed. People can also contact Chase if they're interested in hosting Radami for their own event.
Visit hatzalah.org.il for more information on the organization.
---

Listen next
Dov Maisel on Israel's MCIs, emergency response
United Hatzalah volunteer emergency response Director of Operations Dov Maisel speaks to EMS1 from Jerusalem about resiliency in the face of recent mass casualty responses and the ongoing response to rocket attacks
McClatchy-Tribune News Service