Chicago starts testing for polio virus in wastewater in hopes of detecting cases early
Tests have found polio virus in New York counties with low vaccination rates
---
By Richard Requena
Chicago Tribune
CHICAGO — The Chicago Department of Public Health announced on Friday it has begun monitoring for the polio virus in wastewater.
No cases of polio have been identified in Chicago or Illinois, but the department said it's proactively testing the water from plants in the city and surrounding suburbs with several partnering agencies including the Centers for Disease Control and Prevention.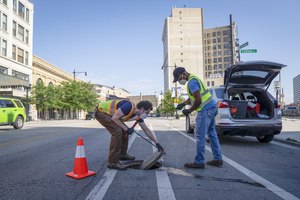 Polio has been considered eradicated in the United States since 1979 following the dissemination of the vaccine that began two decades earlier.
But one case of paralytic polio was identified in New York state in July 2022, and further wastewater testing found poliovirus in New York counties with low vaccination rates.
The New York case "highlights the importance of rapid detection," CDPH Deputy Commissioner Massimo Pacilli said in a news release.
New York health officials also issued an advisory last week asking anyone traveling to Israel to get fully vaccinated after four children recently tested positive in northern Israel.
Most adults and children in Illinois have been vaccinated against polio. The Illinois Department of Public Health, like many other states' health departments, requires children to be vaccinated for polio among other diseases to enroll in school and child care facilities.
Polio is a contagious disease for which there is no cure. It can infect a person's spinal cord, causing paralysis, and before the vaccine became available it caused major public health scares, with tens of thousands of cases occurring a year in the U.S., according to the CDC. Many of its victims were children. Among those who suffered paralysis as a result of polio was President Franklin D. Roosevelt.
Local wastewater is already monitored for the presence of COVID-19, which helped public health officials track the virus during the pandemic.
©2023 Chicago Tribune.
Visit chicagotribune.com.
Distributed by Tribune Content Agency, LLC.
McClatchy-Tribune News Service