CDC adds COVID vaccines to list of suggested routine vaccines for kids, adults
The updated schedule also describes when additional doses of the MMR vaccine or a one-time polio vaccine booster would be recommended
---
By Helena Oliviero
The Atlanta Journal-Constitution
ATLANTA — The Centers for Disease Control and Prevention has added COVID-19 vaccinations to a list of suggested routine immunizations, but they in no way mandate vaccines.
The CDC's vaccine schedule, released Thursday, does not set requirements for vaccines in schools or in the workplace. State and local jurisdictions decide which immunizations are required for children attending schools and daycares. Medical and religious exemptions to vaccines are also allowed in many states, including Georgia.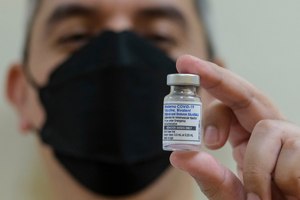 The changes in the vaccination schedule were published in the CDC's Morbidity and Mortality Weekly Report. They include the addition of COVID primary series and recommendations on booster doses, and updated guidance on several other vaccines including influenza, pneumococcal, and MMR (measles, mumps and rubella) vaccines.
The schedule recommends additional doses of MMR vaccine during a mumps outbreak; and a new section for polio vaccinations outlining "special situations" in which a one-time polio vaccine booster would be recommended for adults who are at increased exposure to the virus.
The most talked-about change is likely to be the addition of COVID vaccines to the schedule of routine vaccinations for both adults and children as young as 6 months of age. Boosters are also recommended for adults and children.
"This means COVID-19 vaccine is now presented as any other routinely recommended vaccine and is no longer presented in a special "call out" box as in previous years. This, in a sense, helps 'normalize' this vaccine and sends a powerful message to both healthcare providers and the general public that everyone ages 6 months and older should stay up to date with recommended COVID-19 vaccines (including a booster, when eligible), just as they would with any other routinely recommended vaccine," Dr. Neil Murthy and Dr. A. Patricia Wodi said in a statement to CNN.
And while COVID vaccines may be recommended by public health agencies and pediatricians, there are no indications of COVID vaccine requirements gaining steam here in Georgia.
Legislation has been introduced that would permanently ban vaccine requirements for schools and other places in the state. The bill is an update to legislation that passed last year banning COVID vaccine requirements that will expire on June 30.
Georgia Senate on Tuesday passed legislation on a party-line vote that would permanently ban any state or local agency, government or school from requiring anyone to get a COVID vaccination. The bill now goes to the House for its consideration.
In Georgia, COVID vaccine uptake has been low, especially among young people, according to the latest data from the CDC.
Only 61% of people in Georgia 5 and over have completed their primary vaccine series. Among school-aged children in Georgia between the ages of 10 and 14, only 44% have gotten at least one dose of the vaccine, according to data from the Georgia Department of Public Health. It falls to 25% for children between the ages of 5 and 9. And for children 4 and under in the state, only about 5% of them have had at least one dose of the vaccine.
____
©2023 The Atlanta Journal-Constitution.
Visit at ajc.com.
Distributed by Tribune Content Agency, LLC.
McClatchy-Tribune News Service