Calif. woman impaled in crash
The metal rail exited through the woman's back near her rib cage and extended through the rear of the car
---
By Angela Hart
The Press Democrat
PETALUMA, Calif. — A female passenger impaled by a metal fence railing in a vehicle crash outside Petaluma on Saturday morning was airlifted to Santa Rosa Memorial Hospital with life threatening injuries.
By the time emergency crews responded to the crash at 10:30 a.m., the male driver of the black Honda Civic had fled on foot, said Rancho Adobe Fire Protection District Battalion Chief Andy Taylor.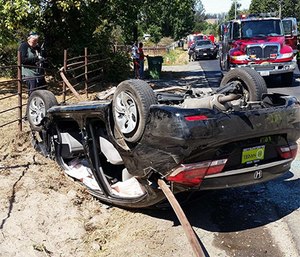 A search by law enforcement officers for the suspect initially included the use of several helicopters. CHP officers were still searching for the driver Saturday evening.
The passenger had to be cut from the vehicle. Firefighters think the car flipped on its roof and slid into a metal fence along Skillman Lane. A metal fence rail pierced the front of the car and ran through the woman, who was sitting in the front passenger seat. The rail exited through her back near her rib cage and extended through the rear of the car.
"The metal pole went through the patient and through the entire other side of the car," Taylor said.
The woman, who police did not identify, still had a portion of the pole in her body when she was flown to the hospital, Taylor said.
Police said the woman was conscious and talking when emergency crews arrived, roughly 5 minutes after receiving a 911 call.
It took about 12 minutes to cut the pipe and free the woman, said Rancho Adobe Fire Captain Jimmy Bernal.
Bernal said the extent of the woman's injuries shocked even veteran first responders.
"It is one of the most horrific calls I've ever been on," Bernal said.
The crash was in a residential neighborhood near 3200 Skillman Lane in Petaluma.
Multiple agencies responded, including Rancho Adobe, Petaluma Fire Department, Cal Fire and the CHP.
It is unclear if drugs or alcohol were a factor in the crash.