Fallen firefighter-paramedic recognized with roadway named in his honor
The "Firefighter and Paramedic Patrick Wolterman Memorial Highway" sign was erected for the first responder who died in a fire in 2015
---
By Michael D. Pitman
Dayton Daily News 
HAMILTON, Ohio — Patrick Wolterman should be remembered as a superhero, said the Ohio state lawmaker who helped get a portion of Ohio 4 named for him.
"Superheroes aren't found in the movies. They're not found in the comic books. They're found every day in life," said Ohio Rep. Wes Retherford, R-Hamilton. "They're found in the fire departments and the police departments, and just throughout the community. And a lot of them go unsung, but today Patrick Wolterman is not going to go unsung."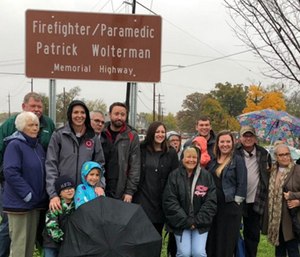 Hamilton erected the "Firefighter and Paramedic Patrick Wolterman Memorial Highway" sign at the stretch of road from North Fair Avenue to High Street now named for the firefighter killed fighting a fire nearly three years ago.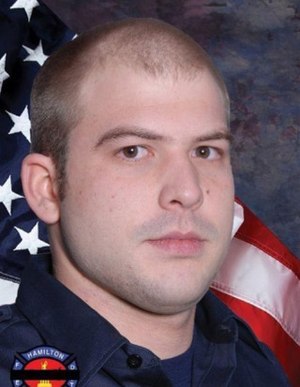 Isaac Sarris, a Hamilton firefighter and liaison for the Wolterman family, said Thursday was a good time to "celebrate" Wolterman.
"This is one of many days to remember Patrick and what he stood for, not only as a firefighter but as a family member," he said. "Above everything else, he was a husband, a son, a brother, an uncle and a great man all around."
Retherford introduced a bill earlier this year to rename a portion of Ohio 4 for the Hamilton firefighter who died in the line of duty on Dec. 28, 2015.
"Patrick paid the ultimate sacrifice, he showed the ultimate love for his community, and I was just honored to be part of making sure he's permanently memorialized in this community through a sign dedication," Retherford said.
Naming this portion of Ohio 4 took a few twists and turns. It was introduced as a standalone House Bill when Retherford introduced it in March, added to Senate Bill 86 in June and eventually became a part of House Bill 347, a road-naming bill that included a number of other roads to honor fallen Ohioans.
Hamilton Fire Department Chief Mark Mercer said Thursday's sign dedication "means different things to different people."
"For some, the words that Mr. Retherford used — duty, sacrifice and community — all of those things are important," he said. "For other people, a different relationship: family, brotherhood and love. As we see this sign, we'll remember that and the loss that comes with Patrick's sacrifice."
The 28-year-old Wolterman died on Dec. 28, 2015, battling a blaze at a Hamilton home. That fire was determined to be intentionally set. Lester Parker and William Tucker were found guilty in November 2017 of murder and arson. Both were sentenced to life in prison.
Following the trial, Retherford reached out to Hamilton firefighters union, I.A.F.F Local 20, to see if the family and department would want him to pursue re-naming part of Ohio 4 in Wolterman's honor. They did.
"For me this is a nice part of our future, for Patrick's future story, for people who are coming down years down the line to see this sign and to remember him once again and to talk about him, and for future generations to ask, 'Who is Patrick Wolterman and what he stood for?' and this will be the prompt for that event," Sarris said.
Copyright 2018 Dayton Daily News 
McClatchy-Tribune News Service