2 Ala. paramedics hospitalized after chemical exposure
The paramedics were reportedly treating a patient near a vehicle when they became dizzy due to an unknown chemical in the vehicle
---
Ben Nunnally
The Anniston Star, Ala.
OXFORD, Ala. — Two Oxford Emergency Medical Services paramedics were hospitalized Thursday morning after chemical exposure at a traffic stop in Talladega County.
Tom Dixon, director of the ambulance service, said that paramedics Jennifer Thrash, 37, and Alex Skelton, 25, responded to a call for medical support from Alabama State Troopers at a traffic stop around 7:40 a.m. Law enforcement had pulled over a vehicle driving erratically in the Interstate 20 eastbound lanes near mile marker 178 in Talladega County, Dixon said.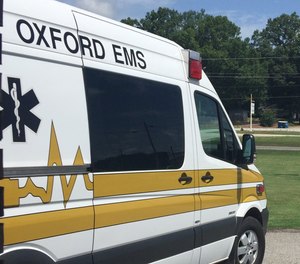 "We had been alerted about someone having an altered mental status," said Dixon, who spoke on the phone while waiting at Citizens Baptist Medical Center in Talladega. "Both paramedics got out of the ambulance and provided care like they should have, and immediately started feeling dizziness."
The paramedics seem to be in stable condition, Dixon said, though he noted that was not an official report from the presiding physician. The two paramedics were able to speak, but had been heavily affected by the chemical material. Dixon said he had driven an ambulance to pick them up and deliver them to the hospital. They could have to stay overnight at the hospital, he said.
Dixon said details were uncertain, but he had pieced together that his staff members had been exposed to toxic chemicals that had spilled inside the vehicle. He had yet to hear an official report identifying the material.
Ambulance responses to traffic stops usually last about 20 minutes, he said, most often when someone has an arresting medical issue such as diabetic shock that leads to irregular driving. Dixon said he believed the paramedics did not enter the vehicle, but were near it while providing aid to one of the vehicle's occupants who had gotten out.
Dixon said that he believed a Talladega sheriff's deputy had also been admitted to the hospital; attempts to reach the Talladega Sheriff's Office were not immediately successful Thursday morning.
———
©2020 The Anniston Star (Anniston, Ala.)
McClatchy-Tribune News Service