Clinical scenario: A geriatric patient fall
You are dispatched to an independent living facility for a senior citizen who has fallen
---
Medic 7, Engine 7 respond Code 2 to 178 Eastwood Lane at Golden Oaks in the independent living wing. This is for an 85-year-old male who suffered a fall. The patient is currently conscious and breathing with staff on scene.
You arrive on scene and are met by the administrator of Golden Oaks.
"Good morning," she says. "You're here for Mr. Stevens. He activated his medical alarm about 10 minutes ago. When the staff got to his room he said that he stood up from bed to make breakfast, felt dizzy and fell. He has some pain in his right hip and says that it hurts to move his leg."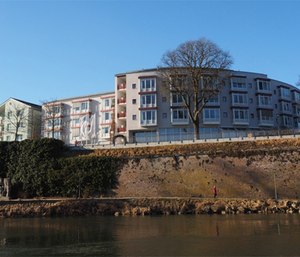 In Mr. Stevens' room, you find a pleasant 85-year-old man who responds appropriately to your questions and appears to be fully oriented. Mr. Stevens repeats the story you heard from the facility administrator and denies losing consciousness or striking his head during his fall. He says that he stood up quickly, got "tunnel vision" and fell.
He has a history of diet-controlled diabetes and hypertension treated with a beta-blocker. His secondary exam is positive for right hip pain with no obvious deformity. When you try to roll him to a more comfortable position he cries out in pain.
Mr. Stevens reports feeling ill the past few days and that he has not been eating or drinking well.
Consider the following questions as you build a treatment plan for Mr. Stevens.
What are some possible causes of his fall?
Aside from trauma, what are your concerns about his condition?
How should you plan to move Mr. Stevens?
How should Mr. Stevens be positioned for transport?
Post your answers in the comments and view the solution for this scenario.