Trump donates portion of salary to opioid efforts
The president gave his third-quarter salary to the Department of Health and Human Services to help "drive action" in the fight against opioids
---
By EMS1 Staff
WASHINGTON — President Trump donated his third-quarter salary to the Department of Health and Human Services in an effort to move the fight against the epidemic forward.
Politico reported that President Trump donated part of his annual $400,000 salary in an effort to "drive action," according to acting HHS secretary Eric Hargan.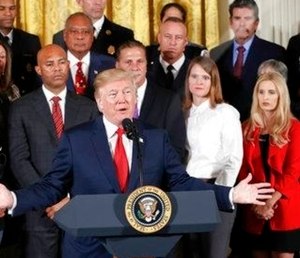 "His decision to donate his salary is a tribute to this compassion, to his patriotism and his sense of duty to the American people," Hargan said.
Hargan said the money will help create a "large-scale public awareness campaign about the dangers of opioid addiction."
Trump also donated part of his salary this year to the Department of Education and the National Park Service.
Critics of the president's opioid efforts, announced in October after he declared the opioid crisis a national health emergency, said that without dedicated funding toward the battle, the problem will continue to worsen around the country.