Texas county terminates EMS contract over audit conflict
Cypress Creek EMS called the termination "disappointing and shocking" while county officials cited numerous "systemic problems and failures" leading to their decision
---
Chevall Pryce
Houston Chronicle
HARRIS COUNTY, Texas — Following a meeting on Sept. 3, Harris County ESD No. 11 has terminated its contract with emergency service provider Cypress Creek EMS.
The ESD No. 11 board said that while they received an audit document they have previously requested from CCEMS, they have decided to terminate the contract due to past conflict over audits and financial documents between the two entities.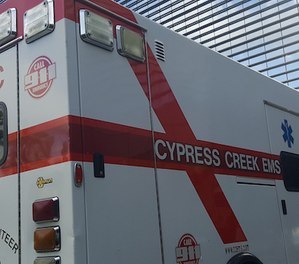 "This is stuff that we're contractually obligated to that we're fighting for here," Commissioner Kevin Brost said. "This is one thing of 999 things of systemic problems and failures with the administration and the board of Cypress Creek EMS."
Interim CEO for Cypress Creek EMS Wren Nealy said the decision to terminate the contract was unexpected, specifically because CCEMS just approved for audit documents to be submitted that ESD No. 11 asked for, including audit documents that covered items not bought with ESD No. 11 funds.
"Today's vote is disappointing and shocking to everyone here," Nealy said. "Our main concerns are for our employees and the community they serve, as front-line responders during a pandemic we want to reassure them they will continue to have employment and serve the community for the next year. The reality is ESD 11's attempts to replace the services we provide at our level of expertise is just not possible."
CCEMS will continue to serve the area, but will search for alternative funding aside from ESD No. 11 within the next year.
———
©2020 the Houston Chronicle
McClatchy-Tribune News Service