FirstNet Authority releases roadmap for future network
FirstNet officials attended individual engagements, workshops and summits with first responders to ensure the roadmap meets responders' communication needs
---
By News Staff 
BALTIMORE — FirstNet Authority released a new roadmap for FirstNet at APCO International Conference and Expo in Baltimore.
The new FirstNet Authority Roadmap is building on first responder feedback to make the system better, according to a press release. FirstNet officials attended individual engagements, workshops and summits with first responders to ensure the roadmap meets emergency responders' communication needs.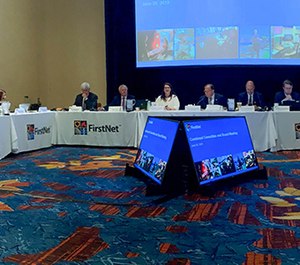 Officials organized the roadmap around six domains that represent the technologies and capabilities that are required for public safety operations. The roadmap's domains cover:
Network core
Coverage and capacity
Situational awareness
Voice communications
Secure information exchange
User experience.
"As we look to the future of FirstNet, it is critical that we deliver network enhancements and innovations based on the needs of public safety and in lockstep with trends in technology," FirstNet Authority Board Chair Edward Horowitz said. "This roadmap lays out priorities for ensuring first responders have the dedicated and differentiated network they asked for, supported by the FirstNet Authority's management of and investment in the network."
To download the roadmap, click here.